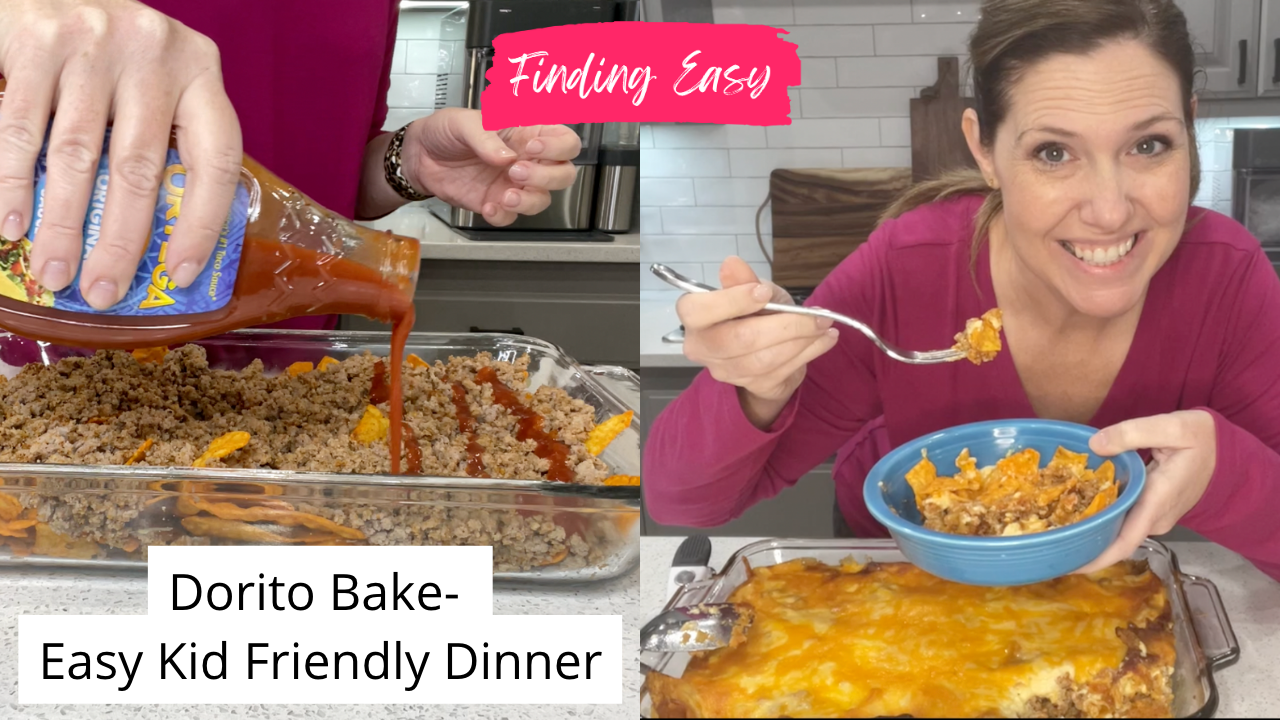 03 Jul

Dorito Bake – Kid-Friendly Dinner for the Win!

It's time to whip up a family favorite – the irresistible Dorito Bake! This dish is a regular at our dinner table, earning thumbs up from both kids and adults alike. It's simple to make, utterly delicious, and never fails to please. So, let's roll up our sleeves and get started on this culinary adventure!

 

 This recipe comes with a dash of nostalgia. My husband Matt's stepmom has been making it for as long as he can remember. When we tied the knot, Matt only had two culinary requests – this mouthwatering Dorito Bake and a scrumptious Banana Nut Cake. So naturally, I turned to Mimi for her secret recipe, and she graciously shared the basics. It's that straightforward!

 

Our culinary journey begins with a party-sized pack of Nacho Cheese Doritos. Split the bag in half – one half goes at the bottom of your baking dish, and the other half, crumbled up, will serve as a delightful topping at the end. So, let's kick things off by pouring half of your Dorito pack into a large glass baking dish.

 

Next up is ground turkey. (Now, Mimi originally used ground beef, but we're substituting it with turkey). I've already browned 2lbs of ground turkey on the stove, blending in 2 packets of taco seasoning for an extra kick. Ground turkey is a staple in our kitchen, finding its way into most of our dishes. Once it's cooked, layer it evenly over the Doritos.

 

Then, it's time to drizzle some taco sauce. I'm partial to the Ortega brand, using half a jar for this recipe. Feel free to experiment with the flavor profile here – go for spicy or mild, depending on your family's preference. I usually stick to mild versions to keep the kids happy.

 

In a separate mixing bowl, combine a can of evaporated milk with two cans of cream of chicken soup. A quick tip – I swear by my trusty can opener from Amazon for this task. Once you have a smooth mixture, pour it over the existing ingredients in your baking dish.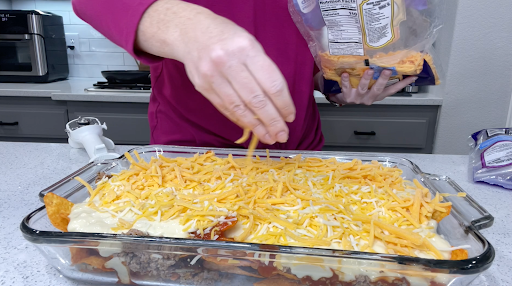 We're almost there! Just before it goes into the oven, sprinkle some shredded cheese over the top. Use whatever cheese your family loves – I generally use about a bag of the shredded cheese I have on hand.
Ensure your oven is preheated to 350 degrees Fahrenheit, and then bake the casserole for 30 minutes. Here's a fun fact – this dish gets better with time. We often enjoy the leftovers even more as the flavors meld together overnight. It's also a fantastic make-ahead meal that freezes well.
After 30 minutes in the oven, your scrumptious Dorito Bake is ready to be devoured! But wait, remember those crushed Doritos we saved? Sprinkle them over each portion before serving, adding that final touch to this hearty meal. And voila! Dinner is served.
If you enjoyed this recipe, stay tuned to Finding Easy for more delightful culinary adventures. Happy cooking!