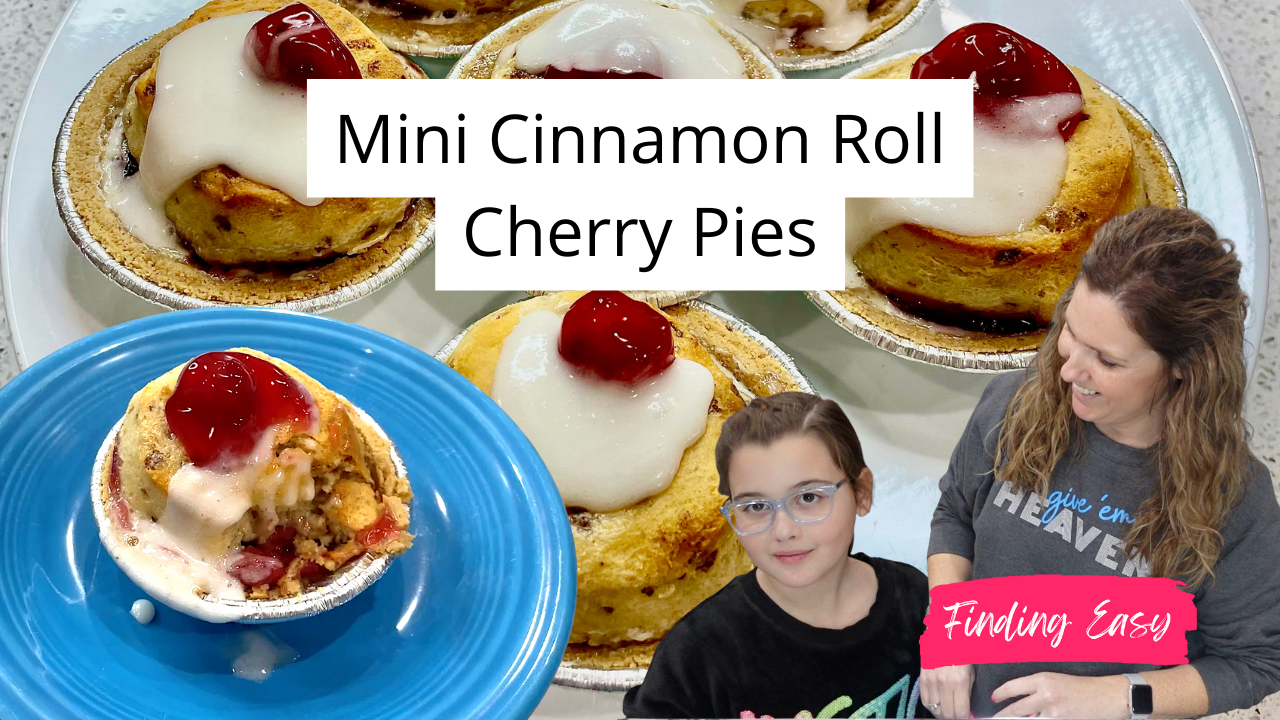 28 Jun

Super Simple Dessert Recipes: Mini Cinnamon Roll Cherry Pies

Get ready to indulge your taste buds and embark on a delightful journey as I unveil the secrets behind creating Mini Cinnamon Roll Cherry Pies – a dessert that effortlessly marries the comforting aromas of freshly baked cinnamon rolls with the vibrant tanginess of cherry pie filling. If you find yourself yearning for a decadent treat that will leave you craving for more, then look no further. Imagine the aroma of warm cinnamon wafting through the air, mingling with the sweet fragrance of cherries simmering gently in the oven. These miniature pies are a testament to the harmonious blending of flavors, where the soft, buttery cinnamon roll dough meets the luscious cherry filling, creating a symphony of tastes.

But what sets these Mini Cinnamon Roll Cherry Pies apart is not just their extraordinary flavors; it's also their adorably small size, making them ideal for individual portions. Perfect for a cozy family gathering, a casual brunch, or even a dessert table, these little treats are sure to capture the hearts of you and your loved ones.

Don't be fooled by their intricate appearance—these pies are surprisingly easy to make, even for novice bakers. With a handful of simple ingredients and a dash of enthusiasm, you'll be on your way to creating a mouthwatering masterpiece that will leave your kitchen filled with joy and your loved ones begging for seconds. In this post, I'll guide you through the step-by-step process of creating these scrumptious Mini Cinnamon Roll Cherry Pies, making the process effortless for you.

Another thing that makes these mini pies special is that they are semi-homemade in nature. By utilizing pre-made ingredients like pre-made mini graham cracker crusts, canned cherry pie filling, and regular Pillsbury cinnamon rolls, we can save time on preparation without compromising on taste. This means you can enjoy the flavors of a classic cherry pie and the comforting aroma of freshly baked cinnamon rolls in a fraction of the time it would take to make the larger version.

Yet another great thing about this recipe is its versatility. Mini Cinnamon Roll Cherry Pies are not only a delightful dessert option for family gatherings or dinner parties, but they also make for a fun baking activity with your little ones. You can easily involve your kids in the process, allowing them to help with filling the mini pie crusts and drizzling the cream over the cinnamon rolls. The result? A memorable bonding experience and a batch of delectable treats to enjoy together afterward.

If you're a visual learner, I've also included a video tutorial (see top of page) that demonstrates each step of the process, making it even easier for you to recreate these delightful Mini Cinnamon Roll Cherry Pies in your own kitchen.

So, whether you're hosting a gathering or simply want to treat yourself to a delectable dessert, these Mini Cinnamon Roll Cherry Pies are a must-try. With their simplicity, mouthwatering flavors, and delightful presentation, they are sure to impress both family and friends. Get ready to savor the irresistible combination of cinnamon rolls and cherry pie in every bite that you take.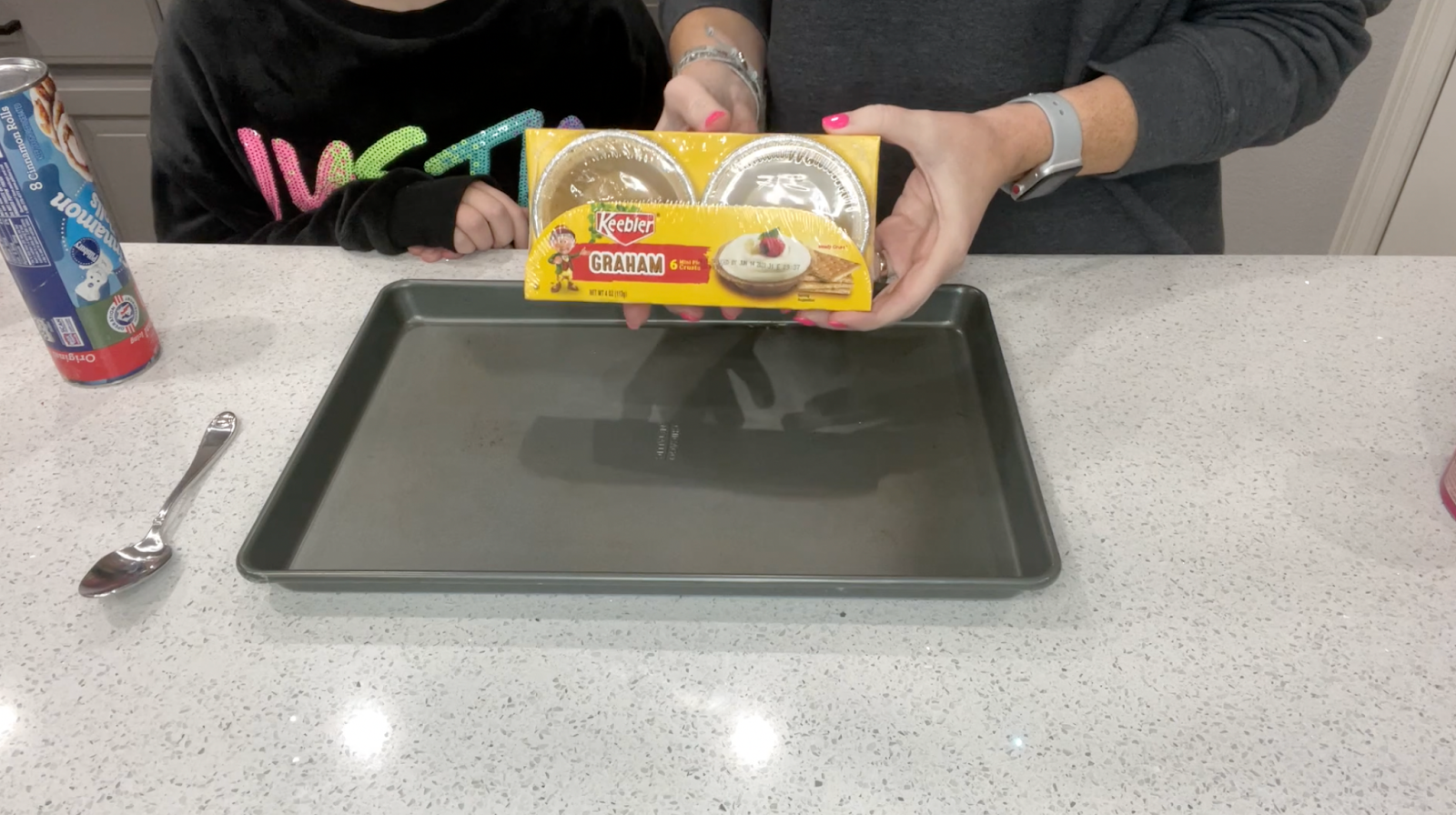 Graham Cracker Crusts
To start, we'll be using our pre-made mini graham cracker crusts. All you have to do is unwrap them, and they are ready to go. Simply place them on a baking tray, and we're off to a great start. 
Add In the Cherry Pie Filling
Next, grab your cherry pie filling—in my house, cherry pie is a family favorite. By using canned cherry pie filling, we make this recipe faster and simpler. Just spoon a generous amount, approximately a heaping tablespoon, over the bottom of each mini pie crust, filling them up about halfway.
Pillsbury Cinnamon Rolls
Once the pies are filled with the delicious cherry pie filling, it's time to introduce the star ingredient: regular Pillsbury cinnamon rolls. Crack open the package and place a cinnamon roll on top of the cherry pie filling in each mini pie crust. The combination of warm cinnamon rolls and cherry filling always makes my taste buds tingle with anticipation.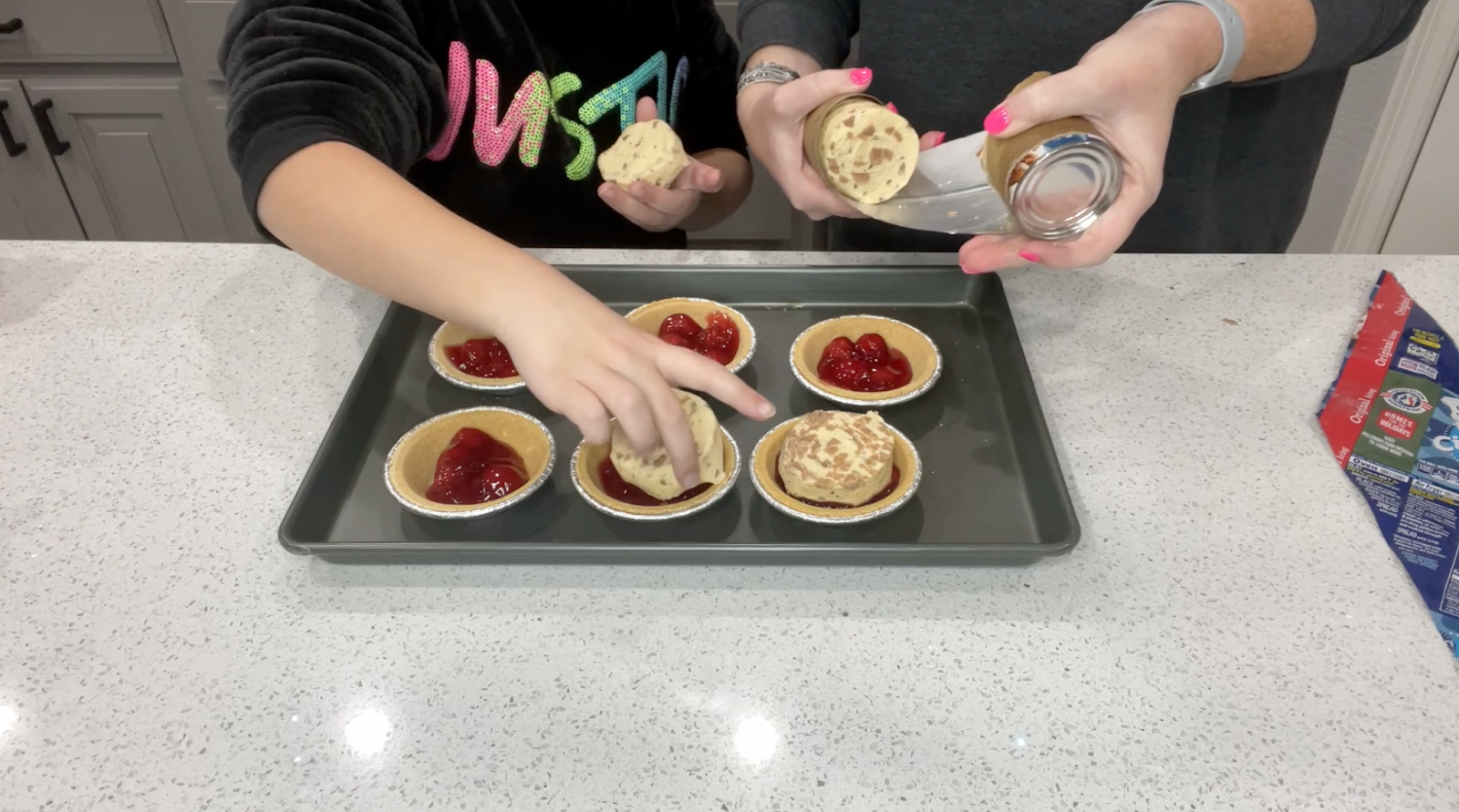 Add Heavy Whipping Cream
To take these mini pies to the next level, I have a special trick up my sleeve. I'll drizzle a small amount of heavy whipping cream over each uncooked cinnamon roll, allowing it to seep down into the pie tin. This step adds a creamy touch to the final result, making each bite even more irresistible.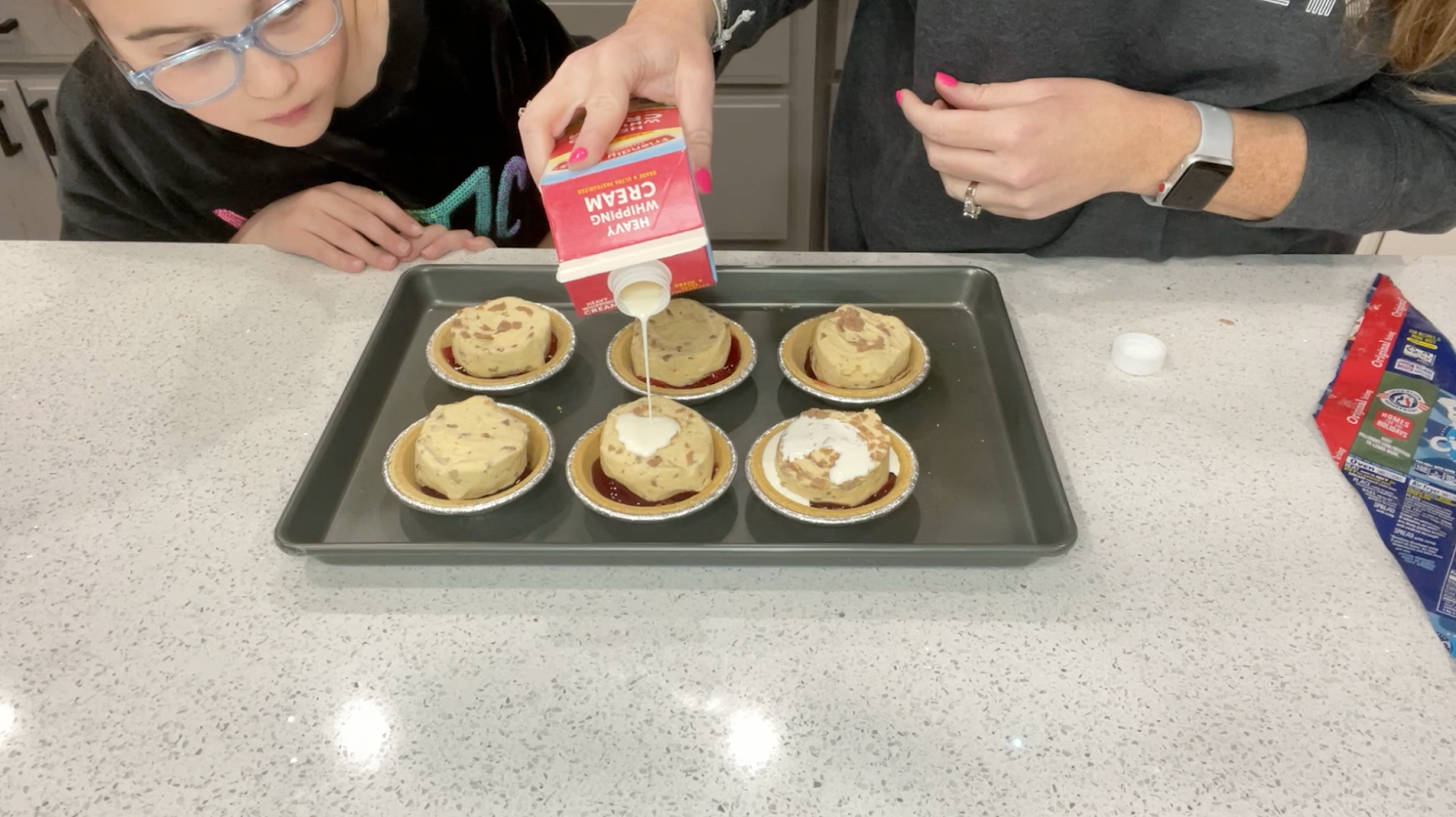 Bake Your Mini Pies
Following the baking instructions on the cinnamon roll package, preheat your oven to 400 degrees and bake the mini pies for 13-17 minutes, or until the cinnamon rolls are beautifully golden brown and cooked through. You can use a toothpick to check if they're cooked through.
Once the Mini Cinnamon Roll Cherry Pies are golden brown and cooked through, remove them from the oven and let them cool for a few minutes.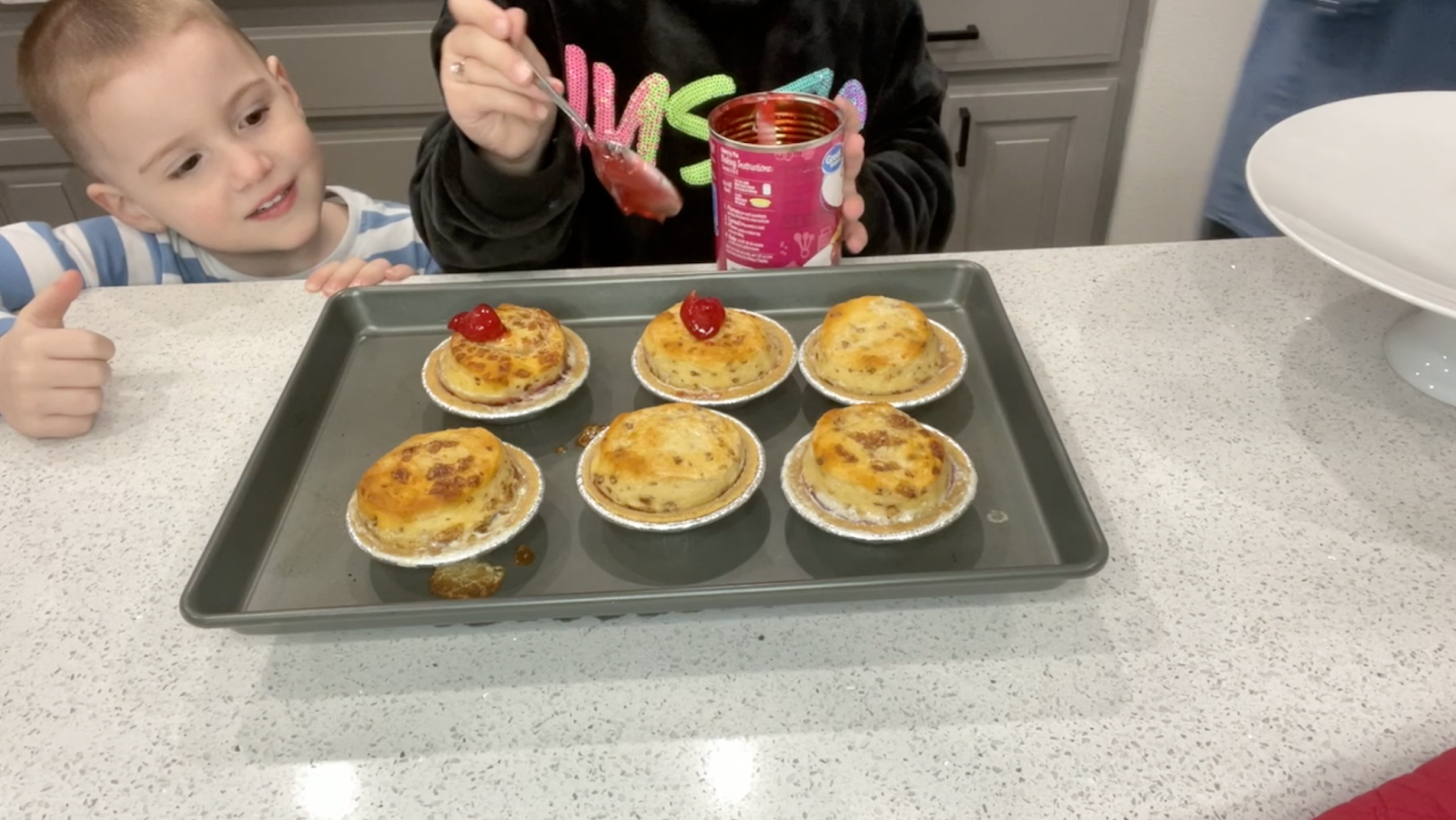 Finishing Touches
While the pies are cooling, prepare the finishing touches. Spoon a dollop of cherry pie filling on top of each pie, spreading it out slightly. Then, drizzle the icing that came with the cinnamon rolls over the pies. As the warm pies meet the icing, the icing will melt and create a mouthwatering glaze that perfectly complements the flavors of cinnamon and cherry.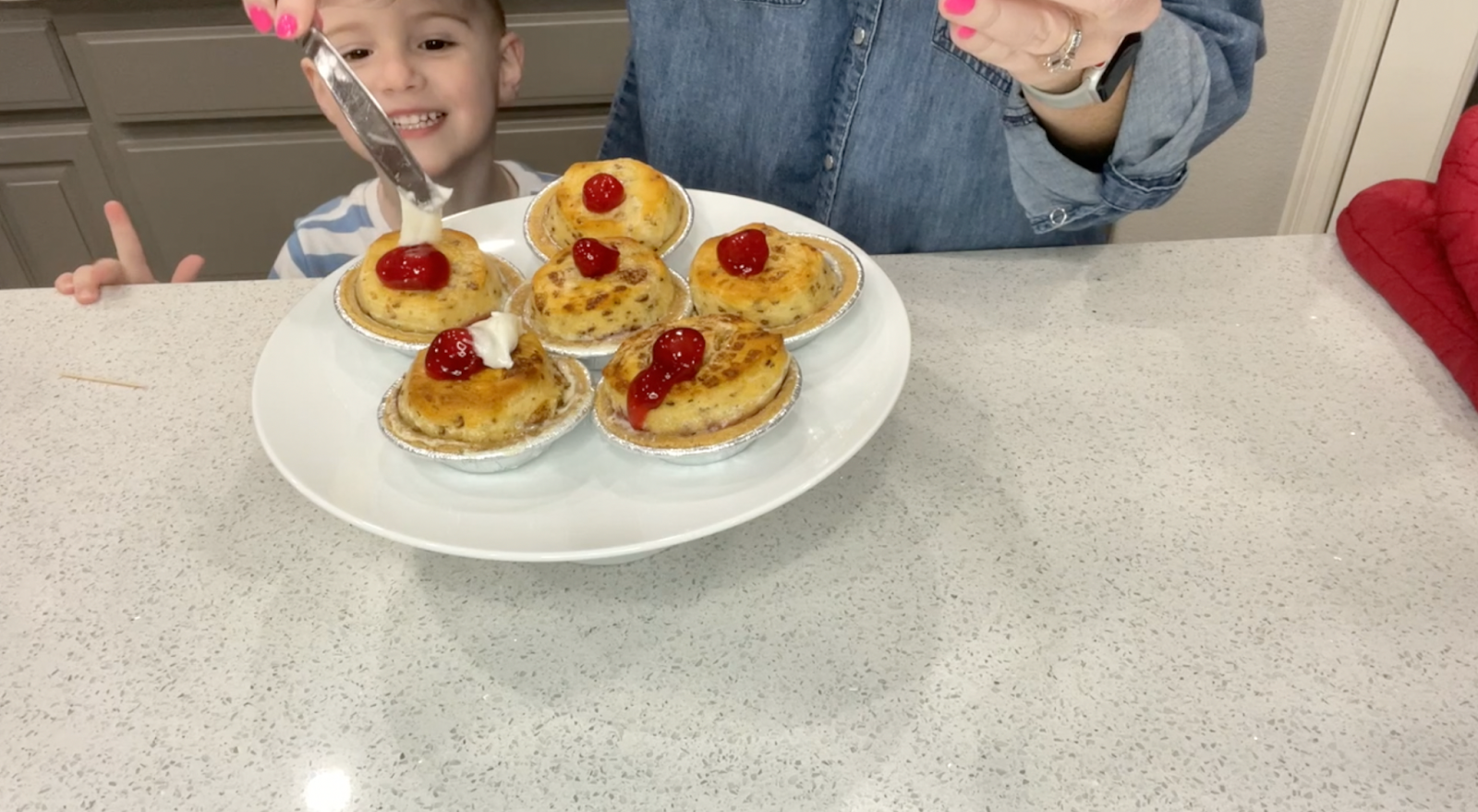 Once the pies have cooled slightly and the glaze has set, they are ready to be enjoyed. Serve them warm or at room temperature, and savor the irresistible combination of cinnamon rolls and cherry pie in every bite.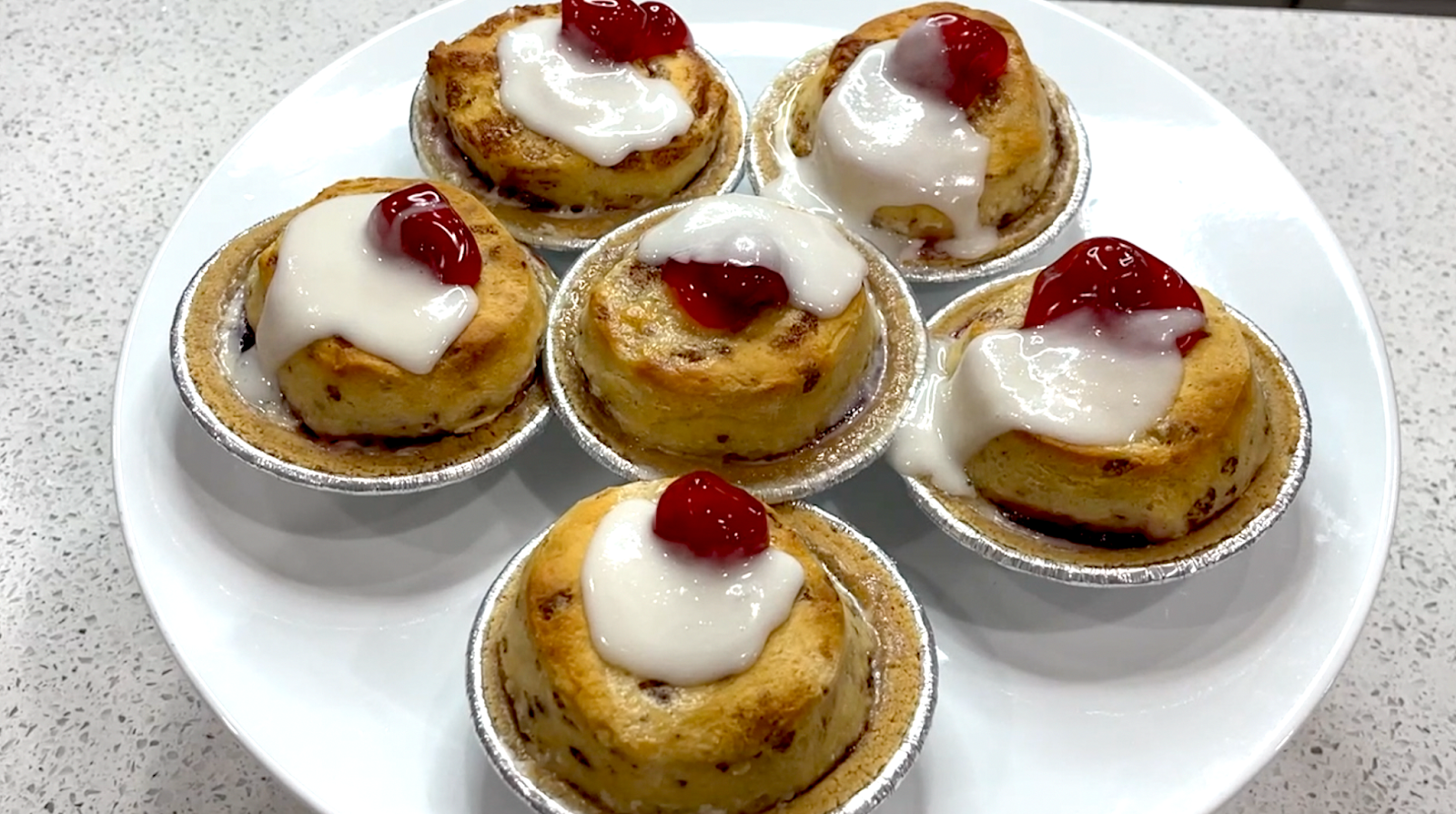 Now that you have the recipe instructions in your arsenal, it's time to don your chef's hat. As you gather your ingredients and preheat your oven, get ready to impress your family and friends with this amazing dessert. 
As the pies bake, your kitchen will be filled with a heavenly scent that beckons your loved ones to the kitchen. The combination of cinnamon and cherry will waft through the air, teasing their senses and setting the stage for a truly memorable dessert experience. And when the moment finally arrives to savor these miniature wonders, they will marvel at the delightful surprise that awaits them.
These Mini Cinnamon Roll Cherry Pies will become a staple in your household, a sweet treat that is as easy to bake as it is to enjoy. Whether it's a casual family gathering, a cozy evening by the fireplace, or a joyful celebration, these pies will always find their place on your dessert table, captivating hearts and palates alike.
So, don't hesitate any longer. Let your culinary skills shine as you dive into the kitchen and create these magnificent delights. Baking has never been so rewarding!
Embrace the simplicity, revel in the deliciousness, and let your taste buds rejoice in the symphony of flavors that these miniature pies offer. May your baking endeavors be filled with fun, laughter, and the sheer delight of creating something truly magical. Get ready to impress, indulge, and enjoy the delightful journey that awaits you with these Mini Cinnamon Roll Cherry Pies! Most of all, have fun baking!