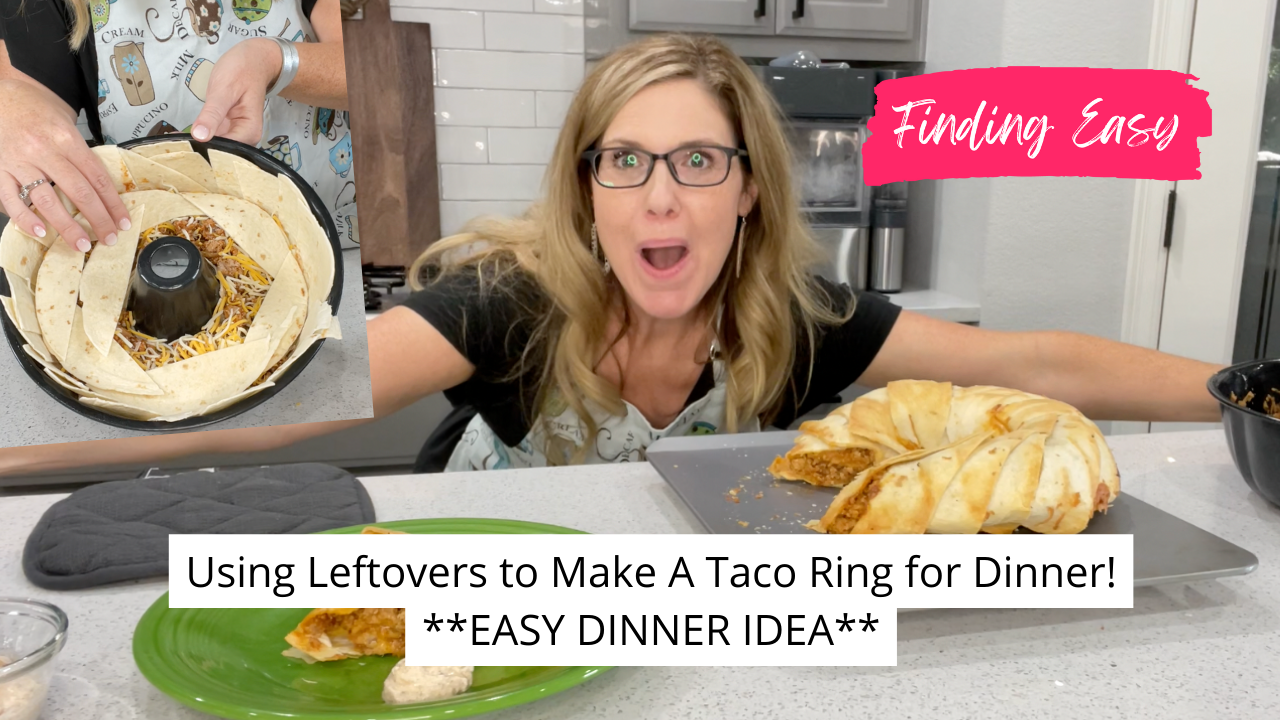 09 Feb

Leftovers? Make a Taco Ring

The taco ring is a delightful twist on the classic taco, offering a creative and visually appealing presentation that is sure to impress your family and friends. This recipe combines the flavors of seasoned ground turkey, gooey melted cheese, and zesty salsa, all wrapped in golden, cheesy tortillas. And best of all? It's both delicious and incredibly easy to make.

What sets this taco ring apart is its simplicity. With just a handful of ingredients and a few easy steps, you can have a delicious and impressive meal on the table in no time. Whether you're a seasoned cook or a beginner in the kitchen, this recipe is designed to be approachable and stress-free, allowing you to enjoy the process of creating a flavorful masterpiece. As we dive into the recipe, you'll learn how to prepare the savory filling, assemble the taco ring, and bake it to perfection.

Whether you're hosting a casual dinner with friends or looking for a fun and interactive meal for your family, the taco ring is a crowd-pleasing choice that will leave everyone satisfied. So, let's gather our ingredients, preheat the oven, and embark on this adventure together.
Ground Turkey
Let's begin with some ground turkey. I've already cooked about 2 pounds of ground turkey until it browned. To enhance the flavor, I added some chopped onions and sautéed them along with the turkey. Now, it's time to add taco seasoning! I like to keep a large container of it on hand because those small packets just disappear in no time. I'm not one for precise measurements, but I know my family loves lots of seasoning, so I'll add roughly 4-5 tablespoons and mix it thoroughly with the turkey. The aroma is already making my taste buds tingle! Since I ran out of fresh limes, I'll substitute lime juice, but feel free to use a few squeezes of fresh lime if you have them.
This recipe came about when I was rummaging through my pantry and fridge, contemplating how to make the best use of my ingredients before they go bad. It's all about maximizing flavor and minimizing waste!
Your Favorite Salsa
Next, let's incorporate my favorite salsa. I have about 3/4 cup left in the jar, so that's what I'll be using. In my recipe repertoire, I have a classic favorite: Dorito Bake, and it includes a special Mexican sauce that adds an irresistible taste. I have just half a jar left, so I'll go ahead and use the rest in this taco ring. If you prefer, you can use canned tomatoes or even Rotel if your family enjoys a spicy kick.
Medium-Sized Flour Tortillas
Now, let's talk tortillas. I bought a large pack from Costco, and if you're familiar with shopping there, you know they come in generous quantities. With all those tortillas, I knew I needed more recipe ideas besides the usual tacos. That's when I decided to get creative and develop this easy alternative to spice things up!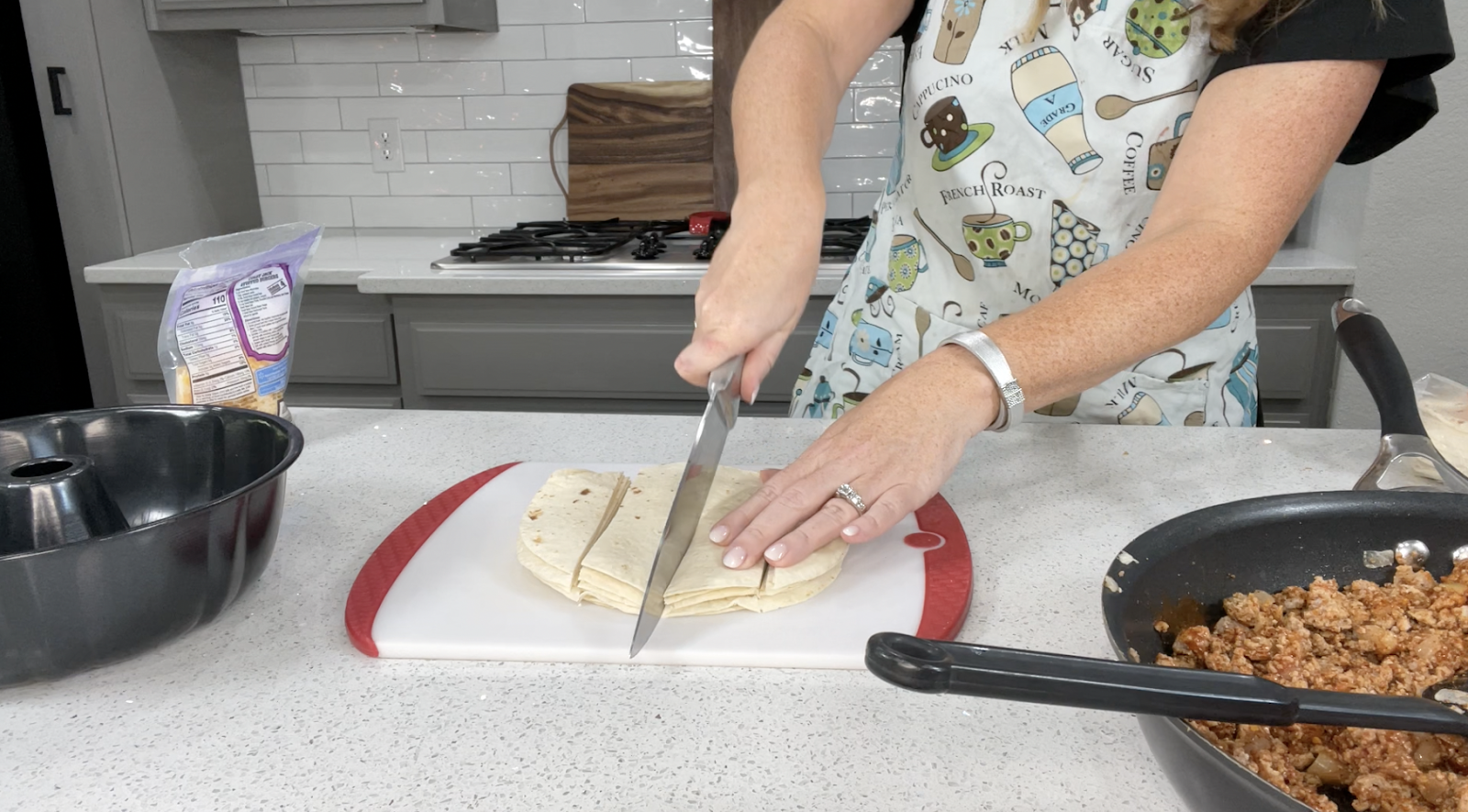 Build the Taco Ring
To start building your taco ring, grab your bundt pan. My bundt pan is a well-loved item in my home. You are going to line it with tortillas and will be using a total of 10 medium-sized flour tortillas. Here's a trick: stack all 10 of them up and cut them into 4 equal sections. You'll end up with tortilla strips that you'll use now, and you can set aside the remaining round tortilla pieces for later. Spray the bundt pan with olive oil or any cooking oil you have on hand, then start lining it with the tortilla strips. As you go, turn each strip slightly so they wrap around the pan, forming a beautiful spiral. The finished product will be visually stunning, with a lovely outer crust and a swirl-like appearance. Make sure to overlap the strips slightly to avoid any gaps. Soft-shell tacos are a hit with my family, so any recipe involving soft tortillas is always a safe bet in our household—and this one is always a hit.
Now, let's bring the meat mixture back. Place half of it at the bottom of the pan. Meanwhile, preheat your oven to 350 degrees Fahrenheit if you haven't done so already. The taco ring will bake for 45 minutes, and then we'll be ready to dig in! Sprinkle a generous handful of shredded cheese on top of the meat mixture, followed by more soft taco shell pieces. We'll use the round pieces we set aside earlier, arranging them in a circle, overlapping, until the meat mixture is completely covered.

Continue Layering
Continue layering by adding more meat. If my kids weren't eating this, I'd add some green chilis or jalapeños to give it an extra kick and a pop of vibrant flavor. Feel free to customize this recipe by incorporating bell peppers or spinach if you'd like. However, if you have picky eaters, it's best to stick with ingredients you know they'll enjoy. Lastly, sprinkle on more shredded cheese and the remaining round tortilla pieces.
Before we pop the taco ring into the oven, let's ensure everything is sealed and ready for baking. Gently press down any strips that may be sticking up and add a final sprinkle of cheese on top. To achieve that perfect crispy finish, give the top a quick spray with cooking oil.
Make the Dipping Sauce
We're not done yet! We have some leftover ingredients, and you know me, I hate to see anything go to waste. Let's put those to good use and whip up a delicious dipping sauce for our taco ring. In a small bowl, combine approximately 2/3 cup of sour cream (had on hand in the fridge), a squeeze of lime juice, and about a tablespoon of taco seasoning. Mix it all together, and voila! A tangy and creamy sauce to complement the flavors of our taco ring.
Into the Oven
Now, it's time to let the oven work its magic. Bake the taco ring at 350 degrees Fahrenheit for 45 minutes, allowing the cheese to melt and the flavors to meld together. As the aroma fills your kitchen, you'll know it's almost time to enjoy this delightful creation.
Once the taco ring is golden brown, carefully remove it from the oven. To present it in all its glory, place a serving tray or platter on top of the bundt pan and gently flip it upside down. The tortilla strips should stay intact, revealing a stunning spiral of deliciousness.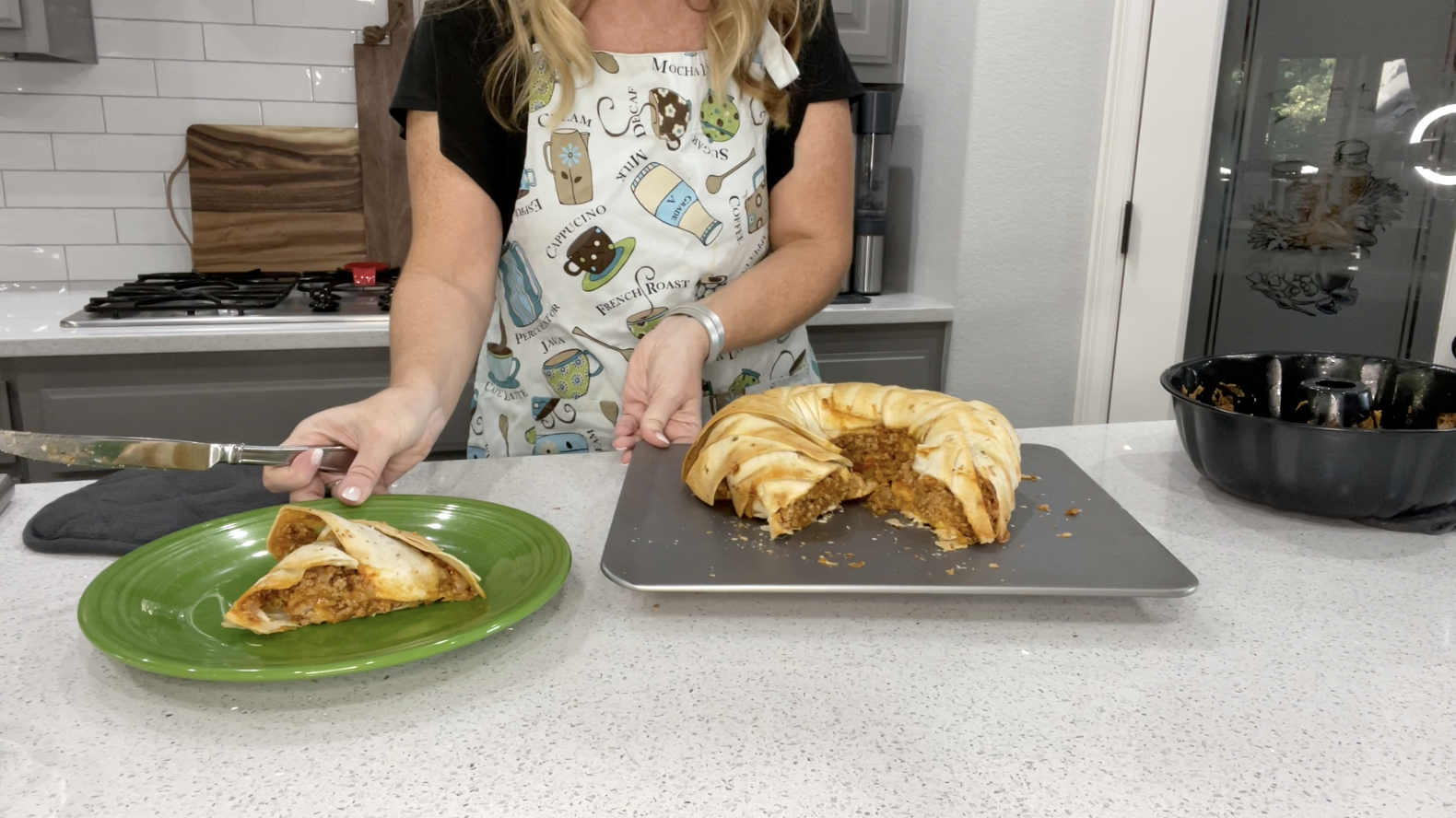 Serve
To serve grab a sharp knife and slice into this culinary masterpiece. Each piece showcases the layers of seasoned turkey, cheese, and tortillas, making it a feast for both the eyes and the taste buds. Serve it up with the tangy lime dipping sauce we prepared earlier, and watch as your family's faces light up with anticipation.
Leftovers? No longer a problem! With this scrumptious taco ring, you've transformed yesterday's meal into today's culinary triumph. Enjoy this creative and tasty dish that's sure to become a new favorite in your household.