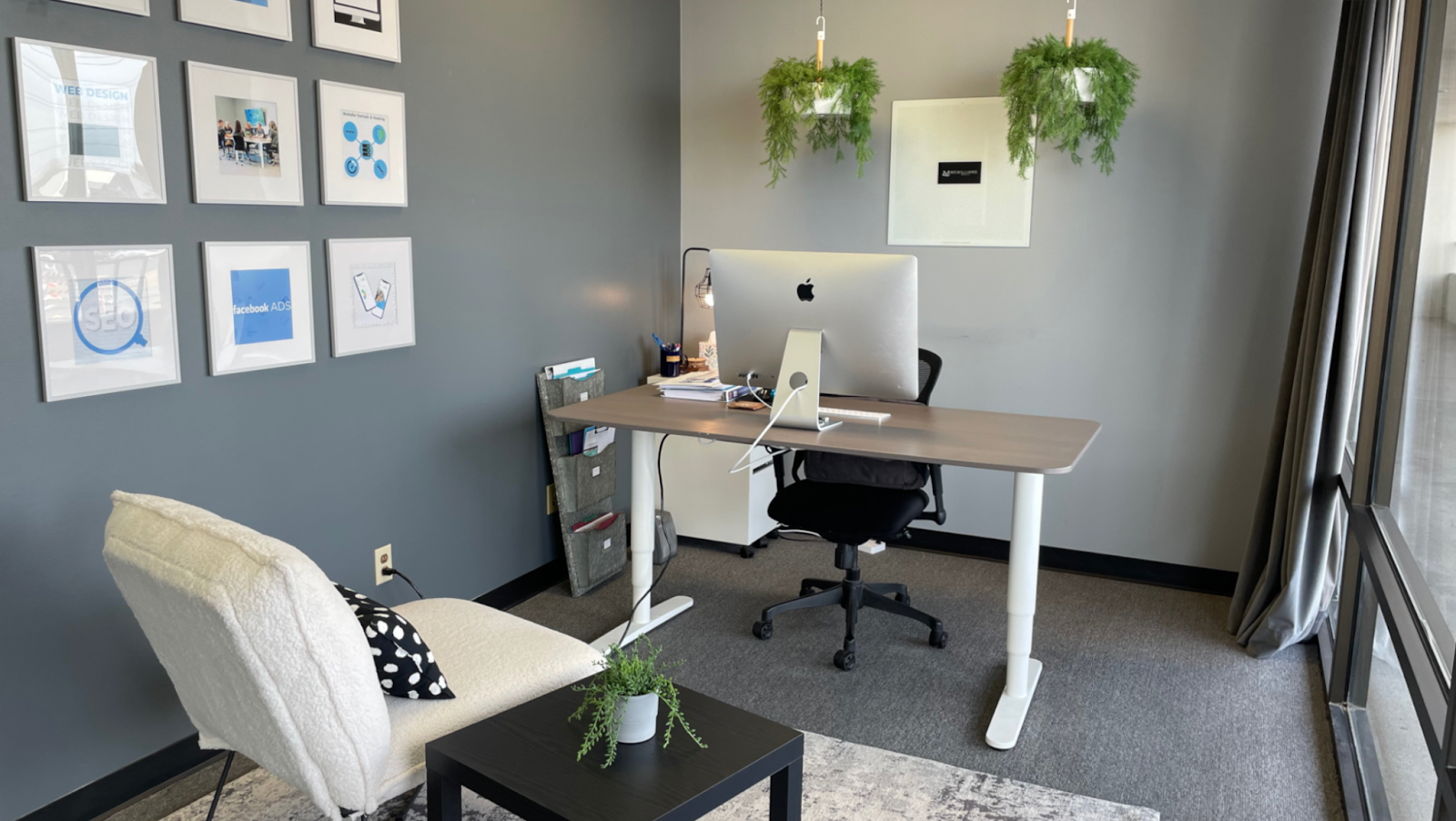 03 Mar

How To Create A New Office Space With No Money!

Step into the world of office makeovers, where creativity knows no bounds. I'm Lindsay, and together with my husband Matt, we form the dynamic duo behind McWilliams Media, a flourishing digital marketing and website development company. As entrepreneurs, we understand the ever-evolving nature of business, which often necessitates adjustments in personnel and office configurations. In our latest endeavor, the spotlight is on Matt as he prepares to transition into a new office. However, there's a catch—I have taken on the challenge of transforming the space without spending a single dime on new furniture, decor, or equipment. Get ready to be inspired as we embark on a journey that explores the untapped potential of repurposing items and reimagining an office space, all while working within the constraints of a shoestring budget.

We all know the feeling of wanting to breathe new life into our work environment, to infuse it with a sense of freshness and invigoration. But the reality is that office makeovers can often come with a hefty price tag. Furniture, decor, and other essential elements can quickly drain your budget, leaving you longing for a more cost-effective solution. That's where the art of repurposing comes into play—a powerful technique that allows you to unlock the hidden potential of existing items and create something truly remarkable.

So, armed with determination and a keen eye for design, I set out to reimagine Matt's new office space using only what we already had within the confines of our office. No shopping sprees or extravagant purchases were allowed. Instead, I aimed to harness the power of repurposing, finding new ways to utilize the furniture and accessories that were already at our disposal.
Curtains
In our office, natural light reigns supreme. As you step into our workspace, you are greeted by a stunning wall of windows, bathing the room in a warm and inviting glow. This sets the perfect stage for Matt's new office, which boasts not only an abundance of sunlight but also presents unique challenges. Summers can be scorching hot, while winters can bring bone-chilling temperatures. To combat these extremes, we already had heavy velvet curtains hanging, strategically placed to regulate the room's temperature, providing a comfortable and controlled environment for productive work.
But this transformation is more than just about temperature regulation. It's about reimagining the potential of every nook and cranny, every piece of furniture and decor!
Previously, Matt's office space was in a larger room housing multiple desks and team members. It was time to revamp and reorganize, ensuring functionality and efficiency.
Prepping the New Space
As the office makeover unfolded, I discovered the power of simple yet transformative pieces. Our trusty lightweight vacuum cleaner, a valuable tool with a long cord and convenient attachment storage, played an essential role in ensuring every corner was spotless and ready for the office's fresh new look. During this process, I also can't help but share a valuable tidbit I learned recently at the Apple store—the correct way to carry an iMac: place your forearm between the screen and the base and walk with it to its new location, ensuring the safety of your technology.

Furniture
The next stop on our office makeover journey led us to Ikea. Known for its stylish and functional furniture, Ikea has become synonymous with office spaces, and our office is no exception. Embracing the versatility and aesthetic appeal of their pieces, I embarked on a mission that would highlight the magic of Ikea's offerings.
One of the first Ikea items to make its way into the new office was a sleek and mobile filing cabinet (Ikea Micke) that we have had for years. Its smooth white exterior seamlessly blended with the overall aesthetic, while its convenient wheels allowed for easy maneuverability. 
Next on the list was my all-time favorite Ikea creation—the sit-stand desk. These desks have become a staple in every room of our office, and for good reason. With just the push of a button, they effortlessly adjust to different heights, accommodating individual preferences and promoting ergonomic work practices. The built-in mesh storage area underneath each desk also is a game-changer, keeping pesky cords organized and out of sight. You can find a similar desk on Amazon here.
Our office makeover wasn't just about furniture. It was about creating a space that felt warm and inviting. To infuse a cozy atmosphere, I repurposed a rug from the main room, giving Matt's office a touch of comfort and style. A fluffy white chair, previously sitting in the hallway, found its new purpose in creating a delightful sitting area for Matt and his office guests. And to complete this cozy corner, I added a small side table, providing a convenient surface for a cup of coffee or a notebook.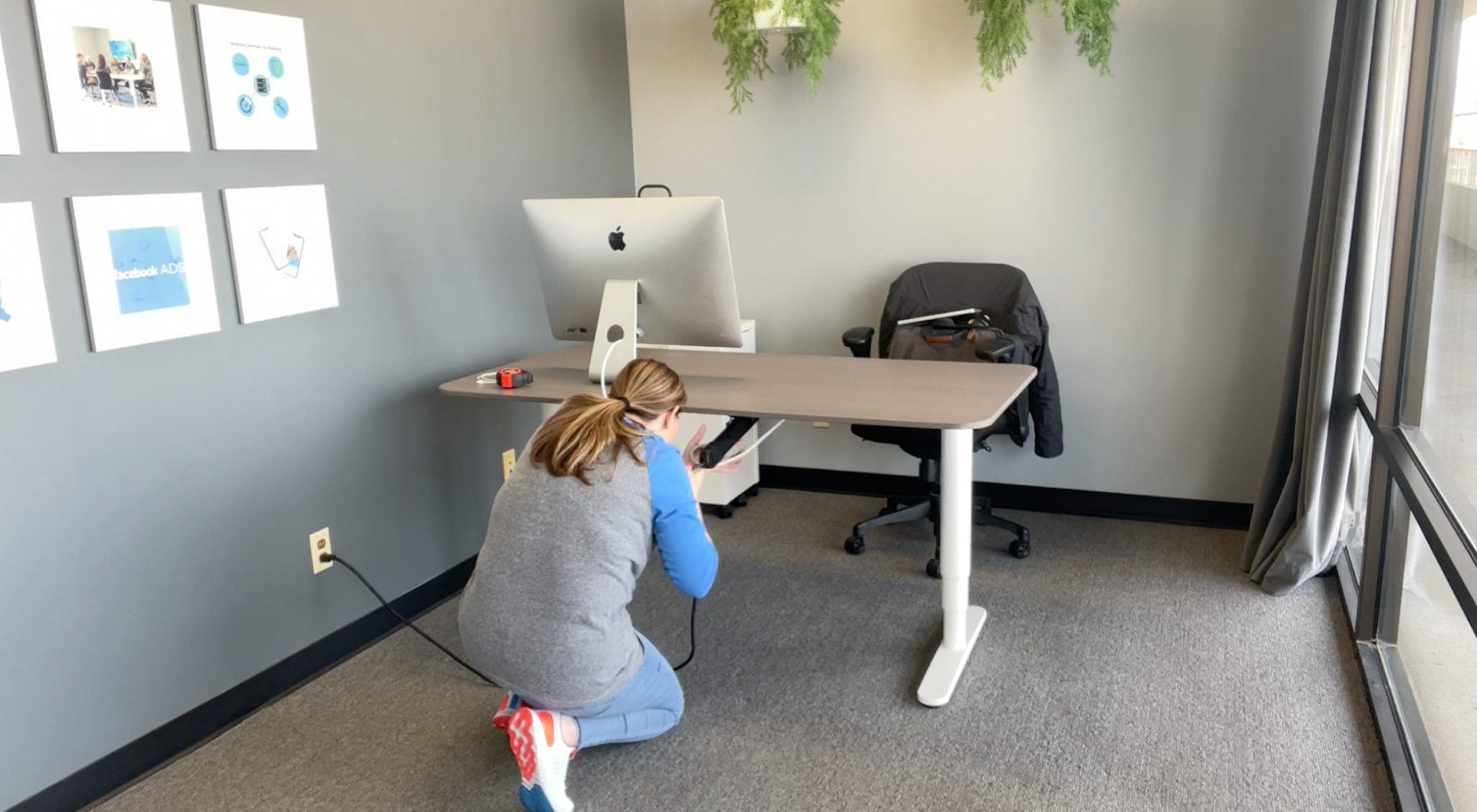 The Walls
No office makeover is complete without adding a personal touch to the walls. That's why I enlisted the help of one of our talented in-house graphic designers, who expertly designed a series of six framed pieces in our brand's colors. By placing them in sleek white Ikea frames that we already had on hand, a stunning gallery wall emerged. With Matt's comfort in mind, I made sure his favorite office chair moved into the new office as well.
The Final Product
With Matt's office now complete, I marveled at the transformation from the main room and even from a distance as I approached the office. The captivating sight of his new workspace brought a sense of satisfaction and accomplishment, knowing that every element was repurposed and reimagined.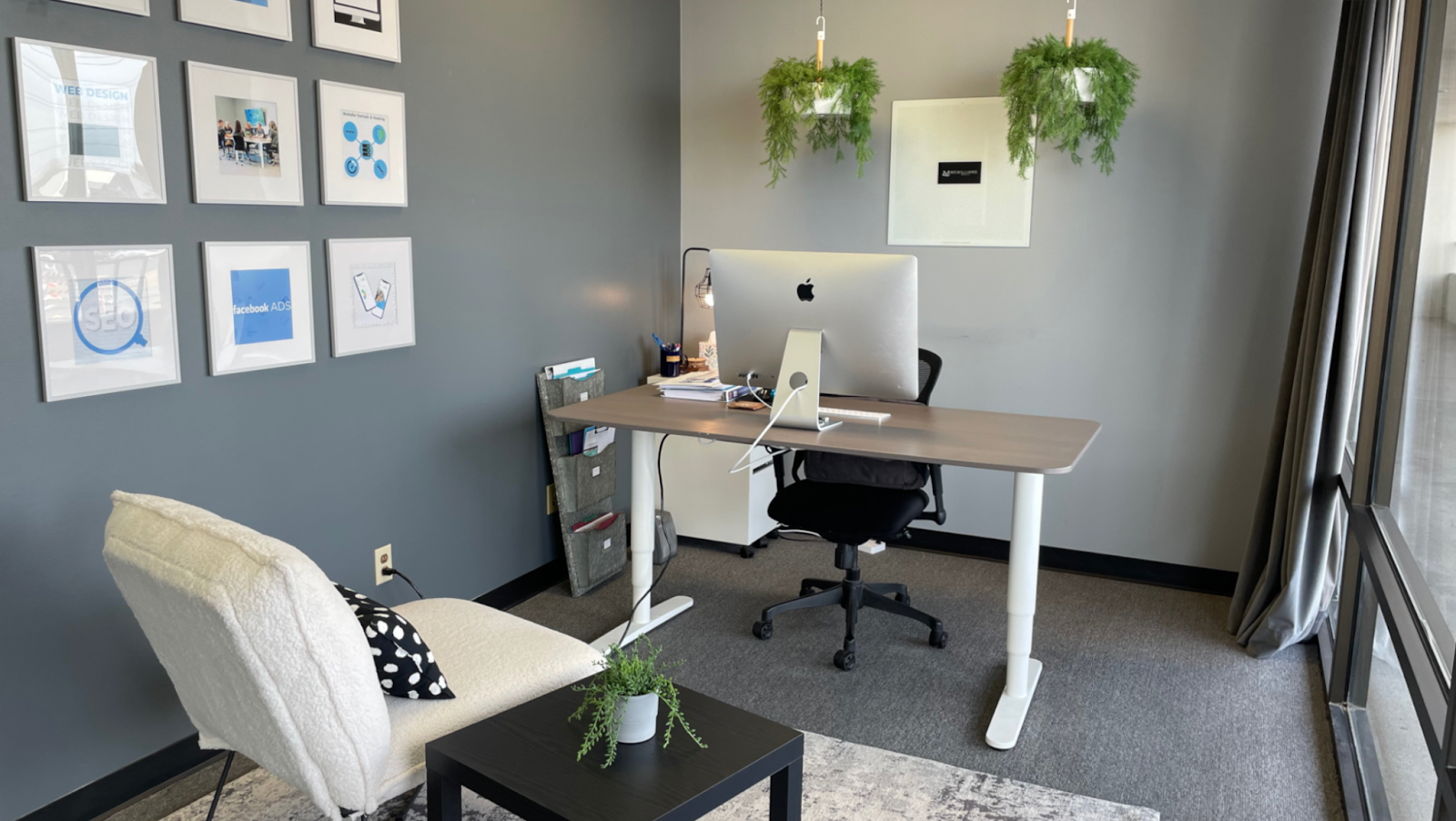 More Rearranging
However, the office makeover didn't end there. Our larger room, which previously housed multiple desks and team members, also required a reimagined workspace to accommodate our evolving needs. We collectively decided to rearrange the office layout, ultimately placing a round meeting table, that was previously in the front office, into this larger room. This simple yet strategic move provided us with a designated area for collaborative discussions, enhancing teamwork and productivity.
Conclusion
What's truly remarkable about this office transformation is that we didn't spend a single cent on new furniture or decor. Instead, we tapped into our creativity and resourcefulness, harnessing the power of repurposing and reusing existing items within the office. 
The success of this no-cost office makeover serves as a testament to the importance of thinking outside the box and maximizing the potential of what already exists. It's a reminder that creating a functional and visually appealing workspace doesn't always require a hefty budget. With a dash of creativity and a keen eye for repurposing, one can breathe new life into an office space.
Our journey through this office transformation has also reinforced the importance of investing in versatile and practical furniture pieces. The Ikea filing cabinet, sit-stand desks, and even our versatile round meeting table have proven to be invaluable assets throughout the process.
As the post comes to a close, we reflect on the success of this office makeover at McWilliams Media. Through collaboration, resourcefulness, and a keen eye for repurposing, we have achieved a fresh and new workspace that perfectly aligns with our evolving needs as a company.
So, the next time you find yourself longing for a change in your office space but don't have the budget for a complete overhaul, take a page from our book. Look around, reimagine, and repurpose what you already have. Embrace the potential of every piece of furniture, every wall, and every nook and cranny. With a little ingenuity and a touch of resourcefulness, you can transform your office into a functional and inspiring environment, without breaking the bank.
Remember, an office makeover is not just about aesthetics; it's about creating a space that nurtures creativity, collaboration, and productivity. So, roll up your sleeves, tap into your creativity, and let the transformation begin. Happy creating, reorganizing, and repurposing!