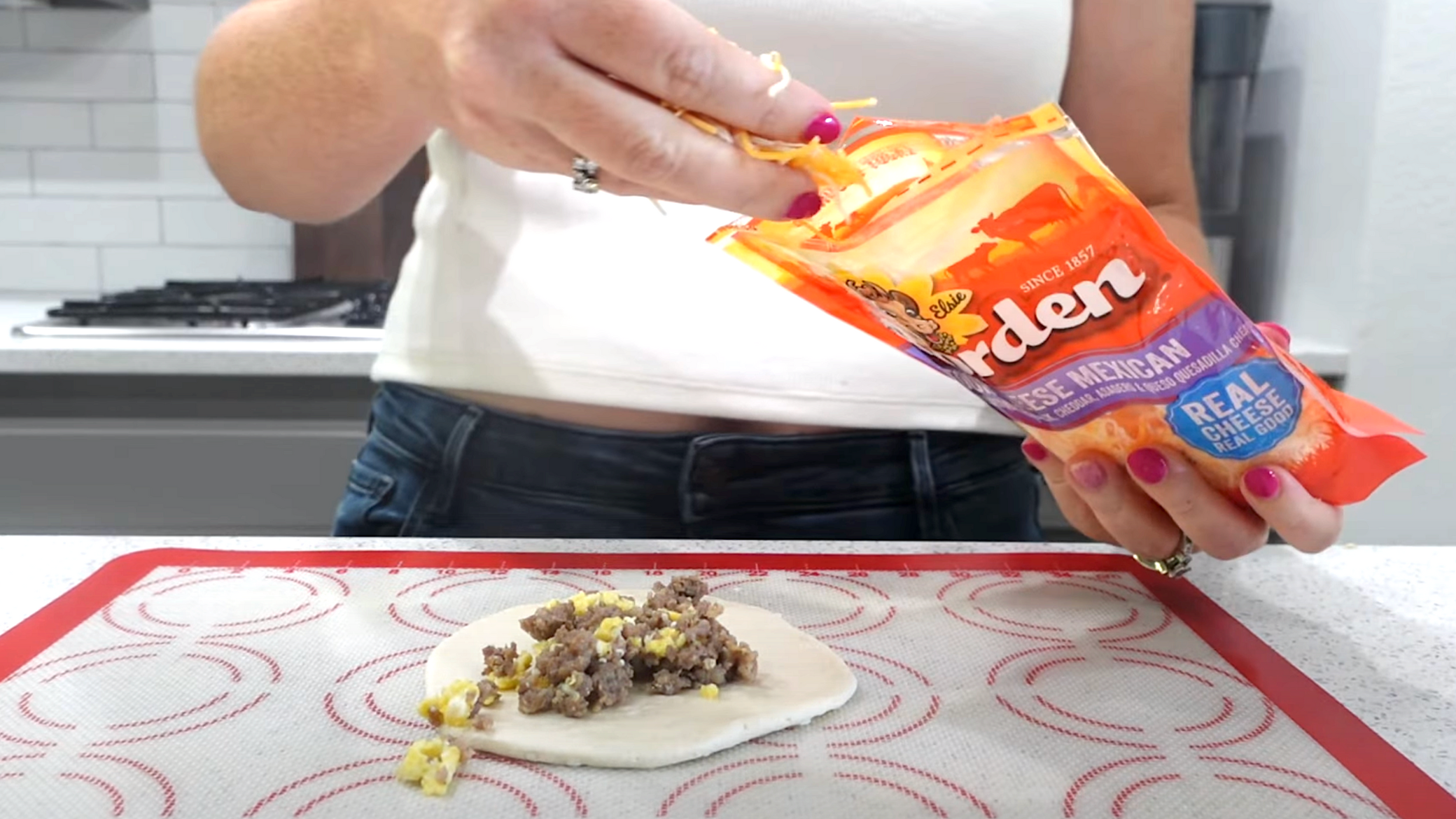 15 May

Easy Breakfast Pockets For Dinner in the Vortex Air Fryer + Bonus Meal with leftovers!
Air Fryer Breakfast Pockets for Dinner + Bonus Meal!
In our home, we frequently eat breakfast food at dinner time. It is difficult to make a meal that everyone in my family will enjoy, and breakfast is always a safe bet. I recently tried out a recipe that combines several different breakfast favorites into one easy-to-contain pocket. The stars of the meal? Pillsbury Grands Biscuits and my Vortex Air Fryer. Who doesn't want an excuse to sneak biscuits into their meal? Plus, the quicker I can cook with my air fryer, the faster we all get to sit down and eat, and the easier the rest of my evening is.
Let me share this husband and kid-approved breakfast pocket recipe with you! Featuring only 3 main ingredients, this recipe is guaranteed to make your life easier. Plus, the total cooking time is 12 minutes or less. This simple breakfast pocket recipe has just a few steps and makes 8 large servings, as well as a bonus meal with leftovers!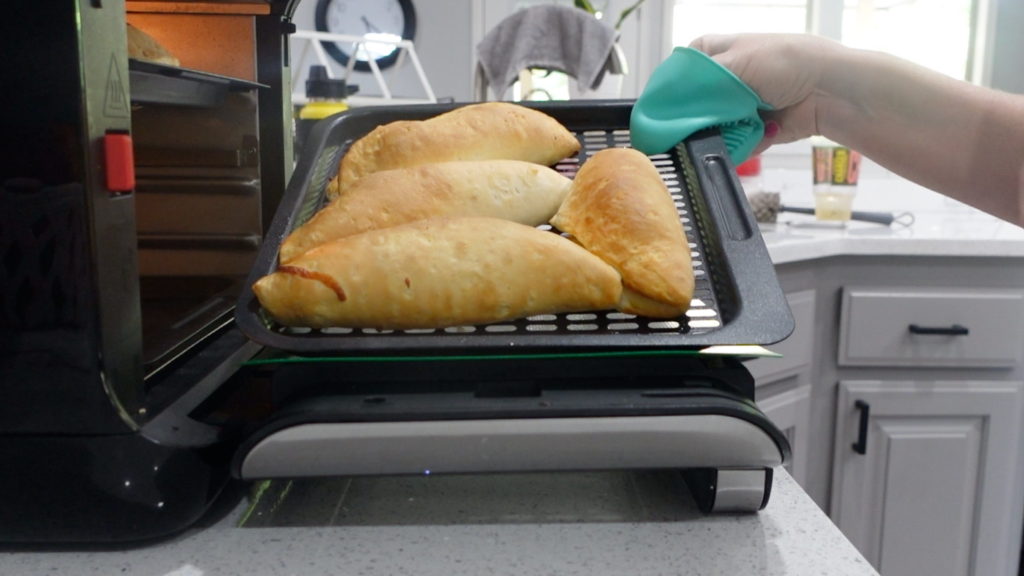 What You Need
You will need a few ingredients and several kitchen essentials to create this recipe at home:
Kitchen Tools
Air Fryer (I love my Vortex Air Fryer from Amazon)

Rolling pin

Silicone baking mat

Large pan

Spatula
Ingredients
2 lbs of ground turkey

6 large eggs

1 package of Pillsbury Grands Biscuits

Shredded cheddar cheese (or whatever your family likes best)

1 package of Pioneer gravy mix (or your choice of gravy mix)

Cooking oil

Salt to taste

Pepper to taste
Cooking the Ground Turkey
Let's jump in. First, heat up a large pan to medium heat. Grab your ground turkey (I bought mine at Costco), and when the pan has heated, throw in your turkey, season with salt and pepper, and then cook your ground turkey until brown. Once the turkey is done, you will want to set it aside to drain. I used a plate with a paper towel to absorb any excess grease. 
Scrambling the Eggs
Crack six eggs directly into a pan on medium heat. There is no need to crack the eggs into a bowl first and waste a dish! Season with salt and pepper. Move the eggs around so that they don't stick to the pan. Once the eggs are fully cooked, you can now add your ground turkey back into the pan, mixing it with the eggs.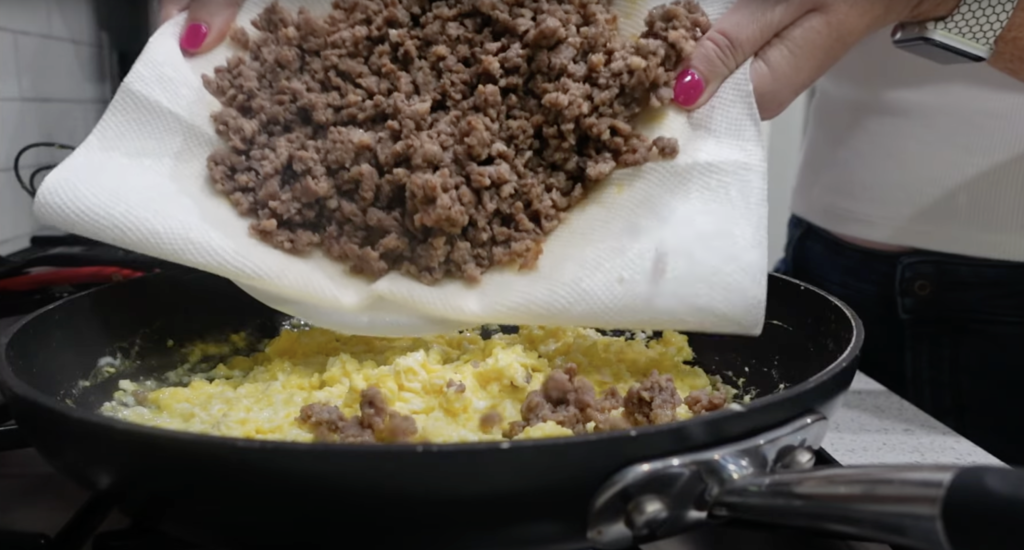 Assembling the Breakfast Pockets
Now, you are ready to start assembling your breakfast pockets. You will need a silicone baking mat; I got mine from Amazon. You will also need a rolling pin and your package of Pillsbury Grands Biscuits. My family likes the butter variety—I also think that they work a little bit better in the air fryer. 
Next, pop your package open, grab one biscuit, and roll it out on your silicone baking mat. Make the biscuit as big and flat as you can without it busting open. Once you have done this, you are ready to add in your ground turkey and scrambled egg mixture. To do this, add a small scoop of your egg and turkey mixture to the middle of the flattened biscuit.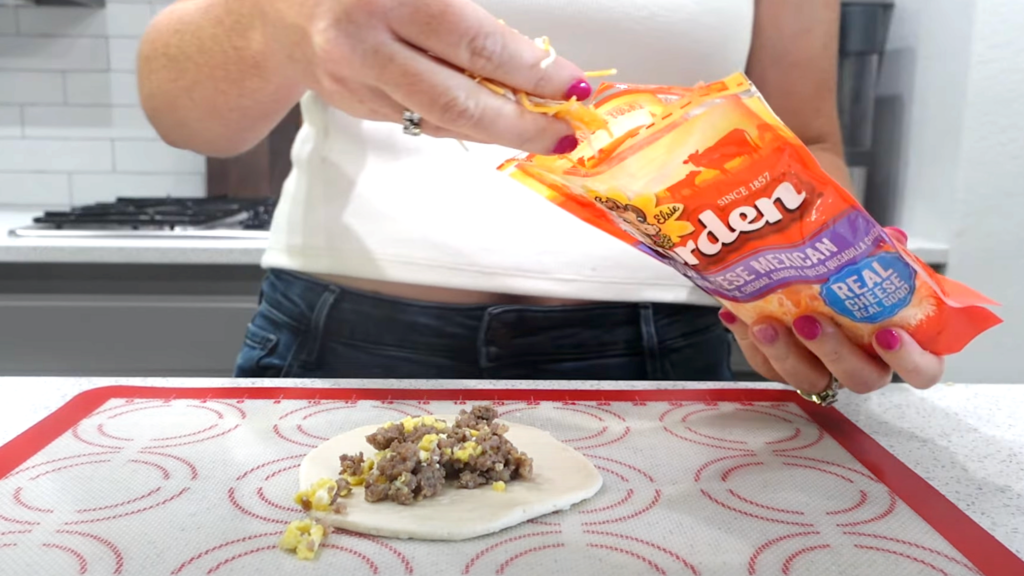 The next step is to sprinkle shredded cheese on top before you close up the pocket. Use whatever cheese you have on hand (whatever your family likes best). Then, fold the rolled-out biscuit in half and pinch the edges together–you will end up with a taco-shaped breakfast pocket. Repeat this process with each of the biscuits in the can until you have used up the entire can of biscuits (8 biscuits). 
You will have some leftover egg and turkey mixture. Set this aside to use later–it will be used to make your bonus meal.
It is time to get the pockets ready for the air fryer. First, place 4 pockets on each tray. After you put the pockets on the trays, spray them lightly with cooking oil so that they will brown up. Then, put your pockets into the air fryer. If, like me, you are using the Vortex Air Fryer, put one tray at that on the very bottom, and one on the very top. When it is time to rotate the trays halfway through cooking, flip-flop the bottom tray and the top tray, which will ensure that they won't be burnt and that they will be cooked all the way through.
Set your air fryer to 350 degrees Fahrenheit, let the pockets cook for 6 minutes to start, and see what they look like. This will be the halfway mark, as the total cook time is around 12 minutes. The pockets are done when they have browned on top.
What takes these to the next level is gravy. I like to use Pioneer dry gravy mix. It is so easy to make. You just pour it into boiling water and stir. Now you have a tasty sauce for those breakfast pockets.
To serve, plate up, and drizzle gravy on top. I cut my kids' pockets in half so that they will cool faster. My family loved this meal, I hope yours does too.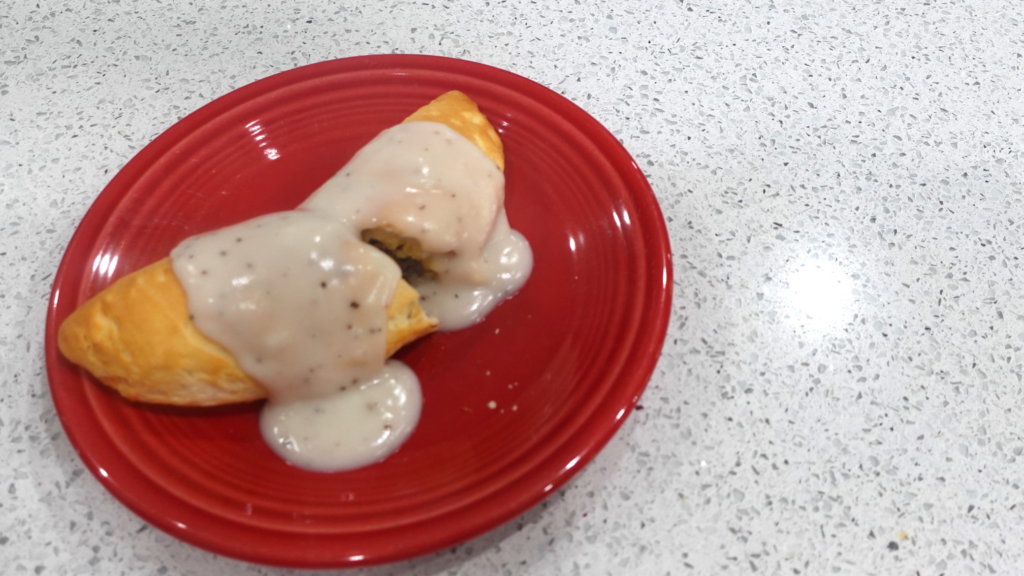 Bonus Meal
You will want to grab some medium tortillas and wrap up the rest of the turkey and egg mixture the in tortillas. Then, wrap the tortillas in aluminum foil, and throw them in your freezer. You will have frozen burritos for the week as well!