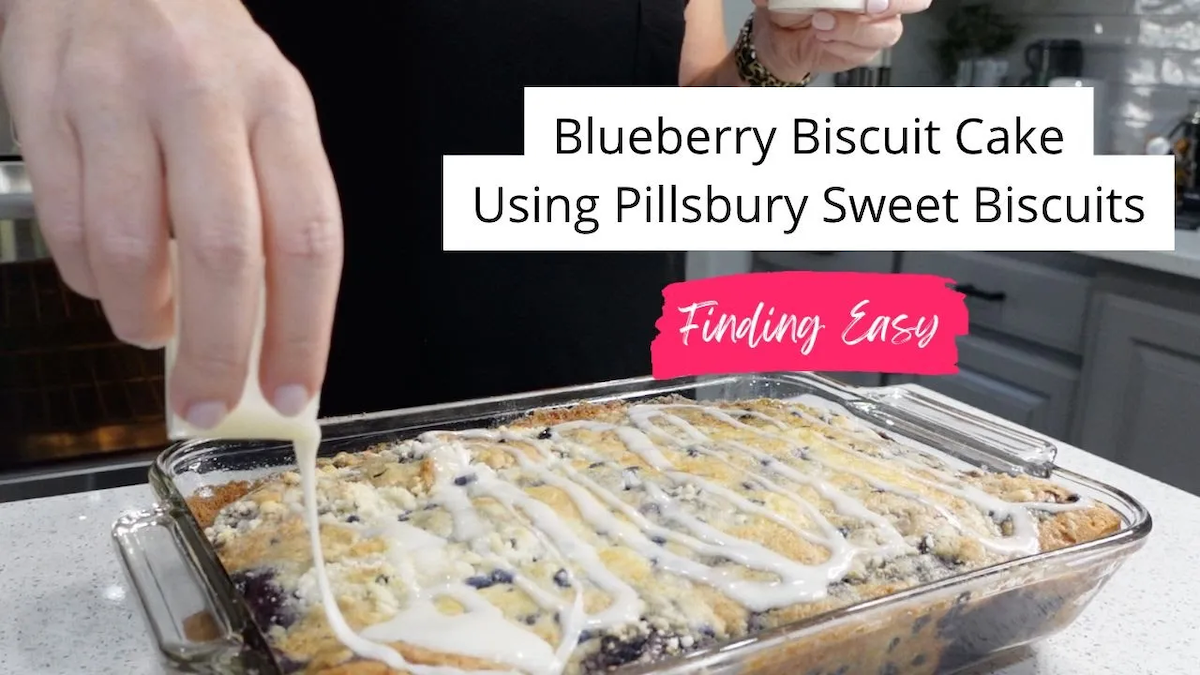 12 Feb

How to Make a Delicious Blueberry Sweet Biscuit Cake

The last few recipes I've shared have been savory, so I think it's high time for something sweet instead. Today I will be sharing my delicious blueberry sweet biscuit cake recipe with you. When I was out grocery shopping I saw these Pillsbury sweet blueberry biscuits. I had no idea these even existed! I knew I had to think of a fun and easy way to jazz them up a bit. This recipe is a bit of a hybrid between a dump cake and a crumble, but it is sure to wow!

Keep reading to see how I transformed these biscuits into a quick and easy family-favorite dessert. 
Let's Get to Baking
The first thing I did was pop open the biscuit can. I know tons of people who are scared of the biscuit can popping open. Don't be a sissy and just get it over with quickly! Wack the can on the edge of your counter and it should do the trick. I will be using two cans and setting aside the frosting for later. 
Once you have your biscuit cans open, separate the biscuits and line them in a baking dish. I prefer using a heat-safe glass dish. I'm using my favorite casserole dish that is uneven on the bottom so it spins, which is actually great for when you need to frost something. You don't have to perfectly line up the biscuits in your dish, I tore up the last biscuit and placed it in any empty spaces I could. 
Now that the biscuits are in the baking dish, I am going to drizzle some Duncan Hines whipped cream cheese frosting over top. To make the process easier, I am microwaving the cream cheese frosting until it can be smoothly poured over the biscuits. Stir the frosting in between each time you microwave it. I found that 10-second intervals worked best. 
I used about ¼ of the frosting. You can use the rest of the frosting for another recipe or if you would rather use it instead of the frosting that came with the Pillsbury biscuits. Either way, it should work.
Blueberry Pie Filling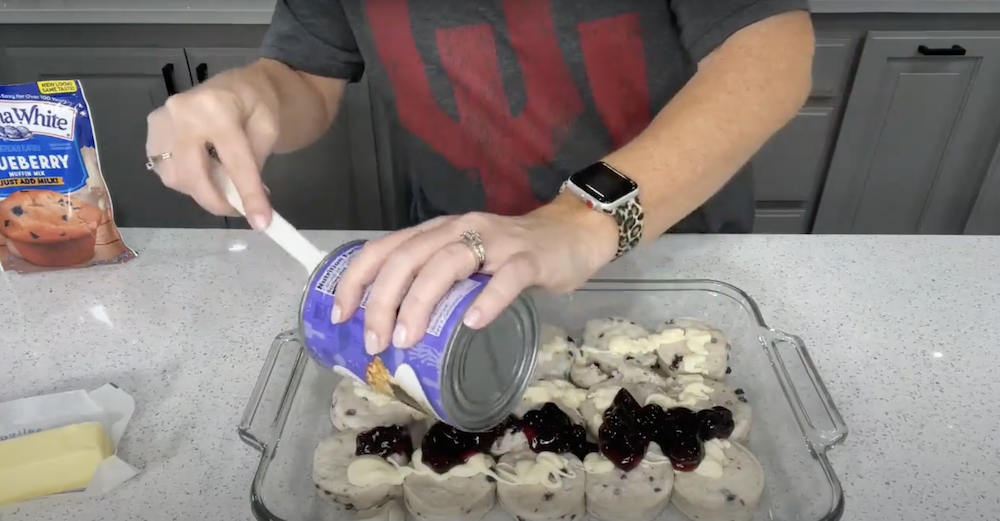 With our biscuits lightly frosted with whipped cream cheese frosting, it's time to add some blueberry pie filling. I am using the Great Value pie filling, but any other brand will work just fine, too. One of my favorite things about this pie filling is that it has a pop-top lid. I know that sounds weird but I absolutely love not having to use a can opener. Manual can openers always hurt my wrists and I haven't gotten around to buying a fancy electric one. I remember going over to my grandma's house and admiring her electric can opener, it seemed so bougie! 
Using a spatula, spread the pie filling evenly on the biscuits. Blueberries are not typically something my family reaches for. Usually, my husband always wants something banana-nut, my daughter always wants something chocolate, and I always want something cherry!
After spreading the blueberry pie filling, I am using Martha White Blueberry Muffin Mix over the top. This will give the mixture a crumble-like texture. This recipe is very similar to a dump cake. It looks really fancy coming out of the oven but all you had to do was dump some ingredients into a pan!

The Last Few Steps
The last few steps for this recipe are to slice up a stick of butter and place the slices evenly on top of our biscuits. Keep in mind that this recipe is not only going to work a lot better, but taste a lot better if you use real butter. Margarine isn't going to cut it here!
Finally, we are going to pop this into the oven at 375 degrees for 15 minutes. You'll want it to be a nice golden brown along the edges of the pan when you take it out of the oven. If you are unsure that it's done, use the handy knife trick. Whether or not the knife comes out cleanly tells you how much longer you need to bake it. If the knife comes out cleany, it's done!
The biscuit cans came with some icing so I am going to use that instead of the whipped cream cheese frosting, but you can top it either way!
Now that your biscuit cake is iced, it's time to plate and taste it! My family absolutely loved this delicious blueberry biscuit cake and it is definitely going to be added to my recipe rotation. 
Try this recipe out for yourself and let me know what you and your family think of it!