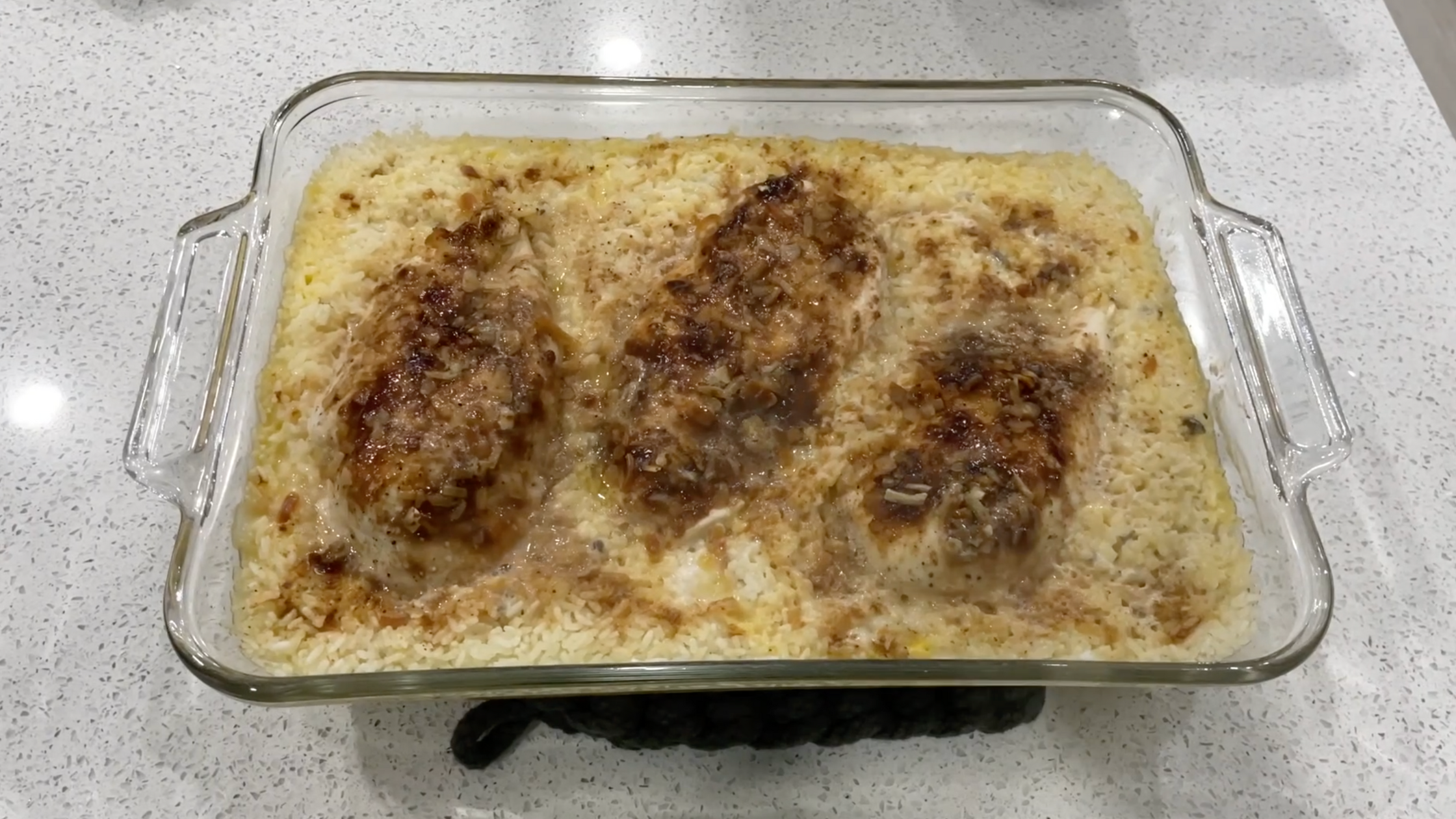 03 May

Easy 1 Dish Chicken and Rice Dish You'll Have to Try!
1 Dish Chicken and Rice for Dinner Tonight
For me, dinner has to be easy and simple. Being a business owner and a mom of three, my schedule is full. So, I make it a goal to save time in the kitchen, which makes more time for life. One-dish meals are some of my absolute favorites. Not only is preparation simpler but clean-up time is also faster. I want to share with you a recipe that has become a fan favorite at our house, both for my husband and my kids. My one-dish chicken and rice casserole is flavorful, creamy, full of protein, and very filling. It's a crowd pleaser for me, and I think it will be at your home too. So whether you're a busy mom like me or simply looking for a tasty new recipe to try, this chicken and rice dish is the perfect addition to your recipe collection. Let's get cooking!
Interestingly, the star of this dish is Lipton Onion Soup mix. I use this dehydrated mix all the time in meatloaf, turkey meatballs, and even while making a roast. Ironically, I have never used it as a soup, though! It is an excellent recipe helper, and most people don't know that.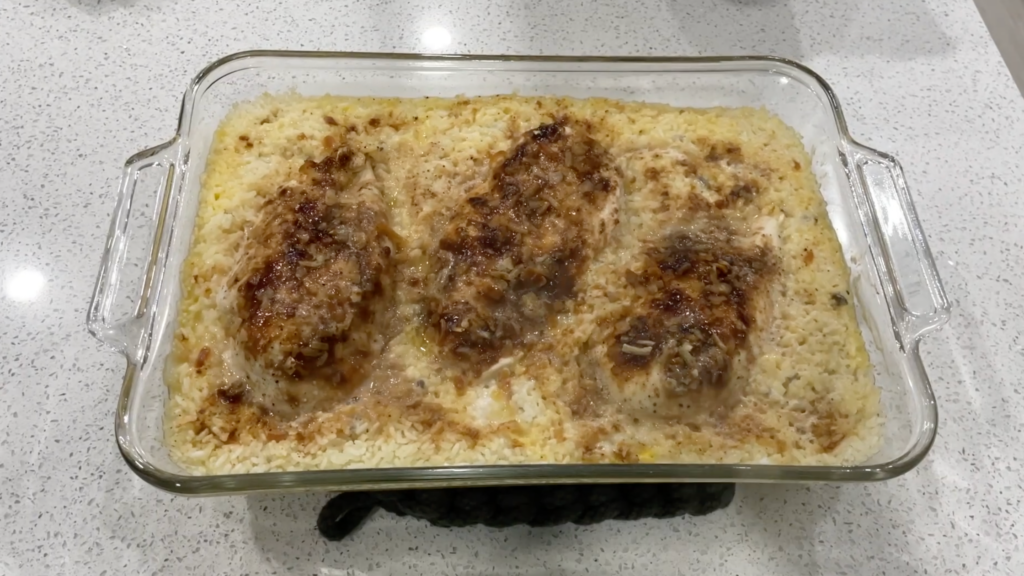 What You Need
Before we dive into the recipe, let's take a quick look at the ingredients you'll need to make this delicious chicken and rice dish. Don't worry, you won't need any fancy or hard-to-find ingredients, and you may already have some of these items in your pantry or refrigerator! Here are the items that you need to make this recipe:
Kitchen Tools
13×9 glass baking dish

Aluminum foil

Spoon

Serving Spoon
Ingredients
Now that we have all of our ingredients ready, let's start cooking!
Pulling Everything Together
Let's jump in. First, preheat your oven to 350 degrees Fahrenheit. Now, start by taking your 2 cups of instant rice and pouring them into the 13×9 glass dish. Spread the rice evenly along the bottom. Next, open the two cans, one being Cream of Chicken and the other Cream of Mushroom soup. I grew up in Kentucky, so my motto is that every good casserole has some kind of cream in it–it's true. Pour in both cans. There is no need to mix ingredients yet.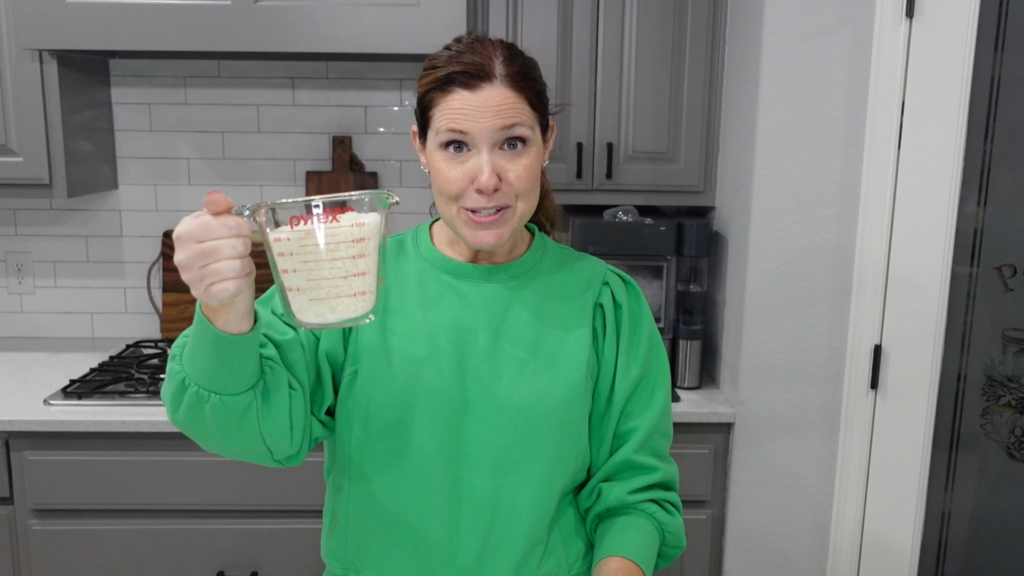 Once you have emptied both cans, take one of the empty cans and fill it with water. Pour this metal can full of water into your 13×9 baking dish. Now, it is time to combine everything using a spoon. Mix together the rice, water, and 2 cans of Cream of Chicken and Cream of Mushroom soup. Mix well until everything is fully combined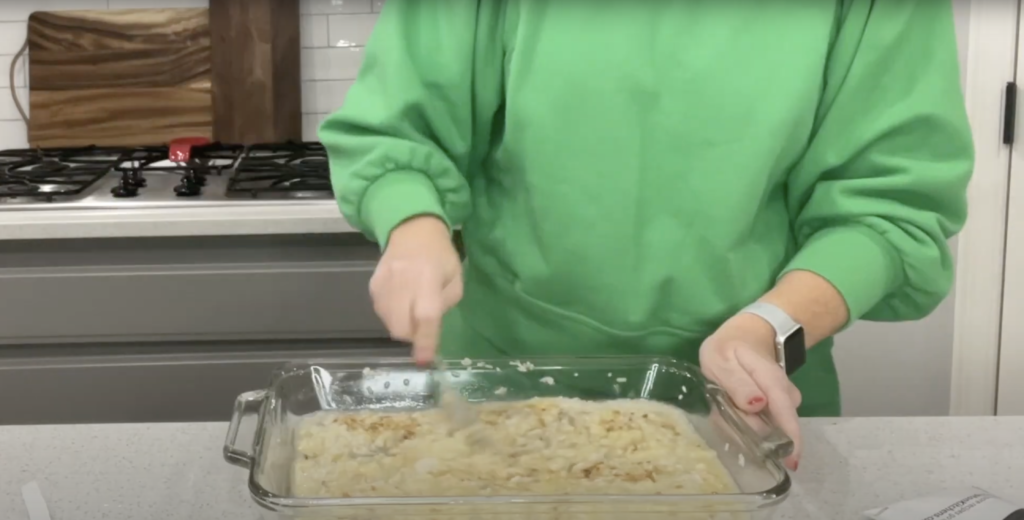 It's time to meet the star of the dish, the Lipton Onion Soup mix. You will smell its delicious flavors as soon as you open the package. Next, pour half of the dehydrated onion soup mixture into your glass baking dish. Make sure to save the other half, as I recommend that you sprinkle it on top of the chicken at the end. With a spoon, combine the onion soup mix with the existing mixture.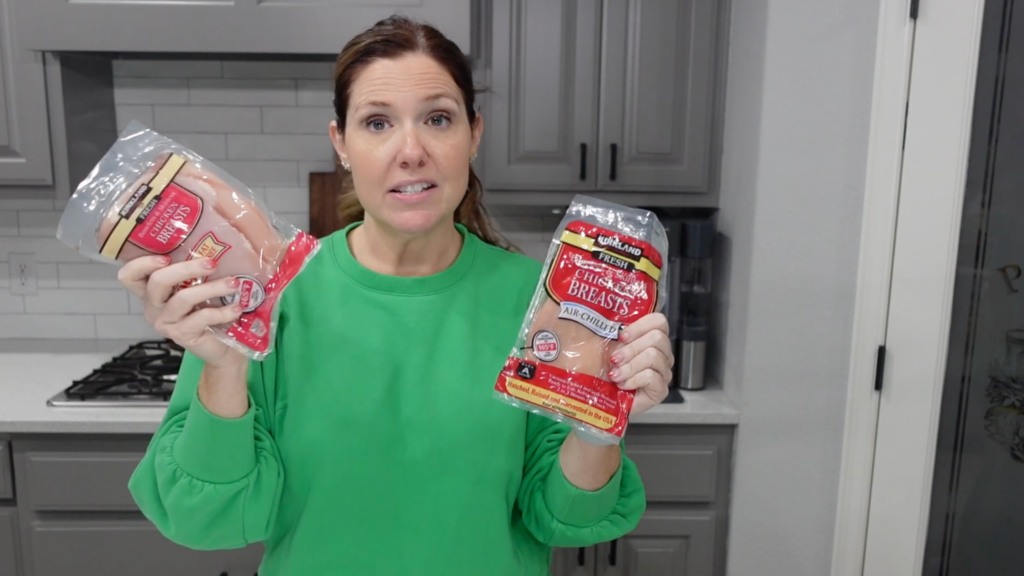 Get out your chicken breasts. Place the 3 chicken breasts on top of your rice mixture. On top of each chicken breast, add a pinch of salt and a pinch of pepper, to your taste. I prefer to use fresh ground salt and pepper. You are also going to use the other half of the Lipton Onion Soup mix. Sprinkle it evenly over the 3 chicken breasts, covering each of them with the mix as fully as possible. Doing this will add so much flavor to the casserole overall, and will leave a nice flavorful crust on the chicken.
Now, take ¾ stick of butter, and slice that into 6 equal chunks (does not have to be accurate). Place 2 chunks of butter on each chicken breast. In the oven, the butter will melt and seep down into the rest of the mixture, adding flavor and moisture.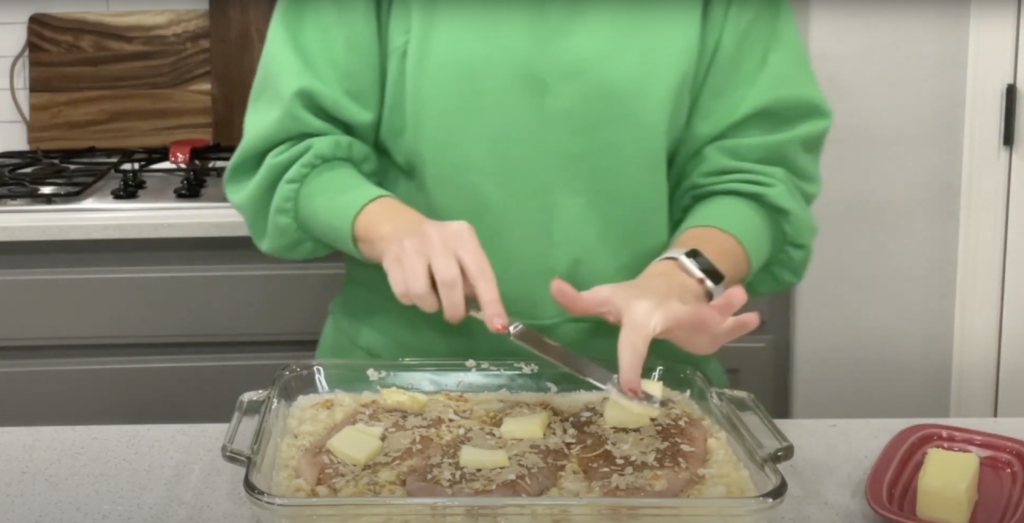 Before you throw your dish in the oven, cover it with aluminum foil to avoid burning the top. The oven should be preheated to 350 degrees Fahrenheit. Pop your dish in the oven for 1 hour, and after one hour, the dish will be ready to take out and serve. Make sure to check that your chicken breasts have cooked to an internal temp of 165 degrees Fahrenheit for safety purposes. 
To serve, use a large serving spoon to scoop out 6 servings onto plates for your whole family.
This recipe is easy to prepare, affordable, filling, and makes enough food for everyone that you love. Or, even just enough to feed one person all week. Let me know if you make this recipe! I would love to know if you and your family approve as well.
Other Thoughts
This may be the perfect recipe for your kids and spouse, but it also makes a thoughtful and delicious gift for an older relative, neighbor, or friend who may need a little extra help or support. 
Casseroles have long been a symbol of comfort and care, and this chicken and rice casserole is no exception. It's a warm and satisfying dish that's perfect for sharing with others, and it's easy to prepare in advance and take with you to someone's home. 
Bringing a homemade meal to someone who may be going through a difficult time, whether it's an illness or just a tough week, can be a meaningful way to show you care. Not only does it provide nourishment, but it can also lift their spirits and remind them that they're not alone.
The next time you make this chicken and rice casserole, consider making a double batch and sharing it with someone in need. It's a small gesture that can make a big difference in someone's day.