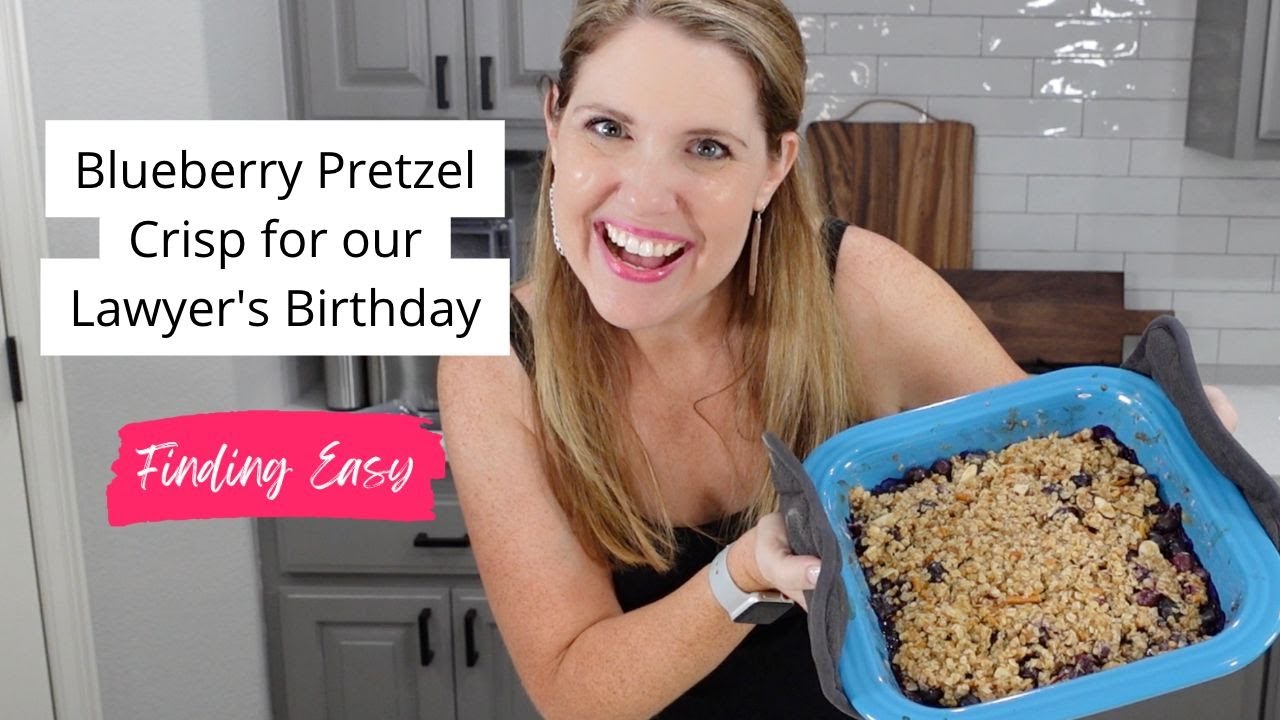 11 Jan

How To Make A Blueberry Pretzel Crisp Dessert For Your Family (and your Lawyer!)

Are you ready for another delicious dessert recipe? I have got a quick and easy blueberry pretzel crisp dessert that will knock your socks off! We are good friends with our lawyer, so we wanted to treat him to something special for his birthday this year. He requested a blueberry pretzel crisp so I got right on it! If you've got a lawyer in your life that you need to bless with an amazing dessert, then this is the recipe for you!
First Things First
The first step to this recipe is washing your blueberries. Fresh fruit always needs to be washed properly before use. After your blueberries are rinsed and dried, pour them into a baking dish as your starting layer.
Sprinkle two tablespoons of flour over your blueberries. I keep my flour in these adorable containers that have descriptive stickers on them, I love them! I got a whole set and I think they add such a cute touch to my kitchen.
Following the flour, pour two tablespoons of sugar over your blueberries. Now, we are taking one lemon and cutting it in half. Gently squeeze half of the lemon over your blueberries, being careful not to let a seed into your mixture. I accidentally let a seed slip in and had to go fishing for it in my blueberries! No one wants to find a lemon seed in their dessert. 
Now that the blueberries are coated, give them a good mix. You want every single blueberry to be evenly coated in flour, sugar, and fresh lemon juice. 

Our Lawyer
The blueberries I picked up are absolutely massive, so this will be a very juicy blueberry pretzel crisp! I know our lawyer is going to love it. He has been a close family friend of ours for years, he even helped us with our estate planning. If you don't have an estate plan, you really need to get one! My husband and I were probably our lawyer's biggest procrastinating clients, we took so long to just sit down and get everything on paper. But, we finally finished it and we are so thankful that our lawyer helped us.
The dish that I am using is from one of my favorite dish collections, Fiestaware. I have them in every color because I couldn't decide which one I liked best. I even keep them in a glass cabinet so I can see them! One of these days I will do a YouTube video showing my entire collection. 
The Crumble
After our blueberry mixture is complete set it aside and we can get started on the crumble. I am starting with putting ¾ cup of quick oats into a large mixing bowl, followed by ¼ cup of granulated sugar, and ¼ cup of brown sugar. 
For more dry ingredients, I put some pretzels in a ziplock bag and smashed them with a spoon until they were almost all crushed. I think it is best if there are some pieces that are still a bit chunky and some that are finer. I am using 3 tablespoons of the smashed pretzels and adding them to the mixing bowl. Next, add two tablespoons of chopped almonds and a full stick of melted butter to the bowl. 
Stir the mixture together until all the ingredients are well incorporated with each other. The pretzels are going to give this dessert a little salt to go with the sweetness of the blueberries. If you're not sure what this mixture should look like, head over to my YouTube channel for a reference! 

Put it All Together
It's time to put both of our mixtures together! We are going to sprinkle the pretzel mixture over the blueberries. A lot of blueberry recipes call for cold butter to be cut in, but I actually prefer to use melted butter to make sure every ingredient gets coated in buttery goodness. 
I mention this in one of my other blog posts, but my family is a cherry kind of family. We love any kind of dessert with cherries in it. I think this recipe is no exception, this would be absolutely delicious with cherries underneath the crumble, but I think what I really want to try next time is apples!
This is going into the oven at 375 degrees for anywhere between 25 and 35 minutes. I'll keep an eye on it!
Coming out of the oven, the pretzel mixture has browned nicely and it looks beautiful! I plated it with a scoop of vanilla ice cream and it is lawyer approved! He loved it and I loved that I could show our appreciation for his help with our estate planning. 
Let me know if you try this quick and easy blueberry pretzel crisp recipe at home. I know my lawyer and family were big fans!