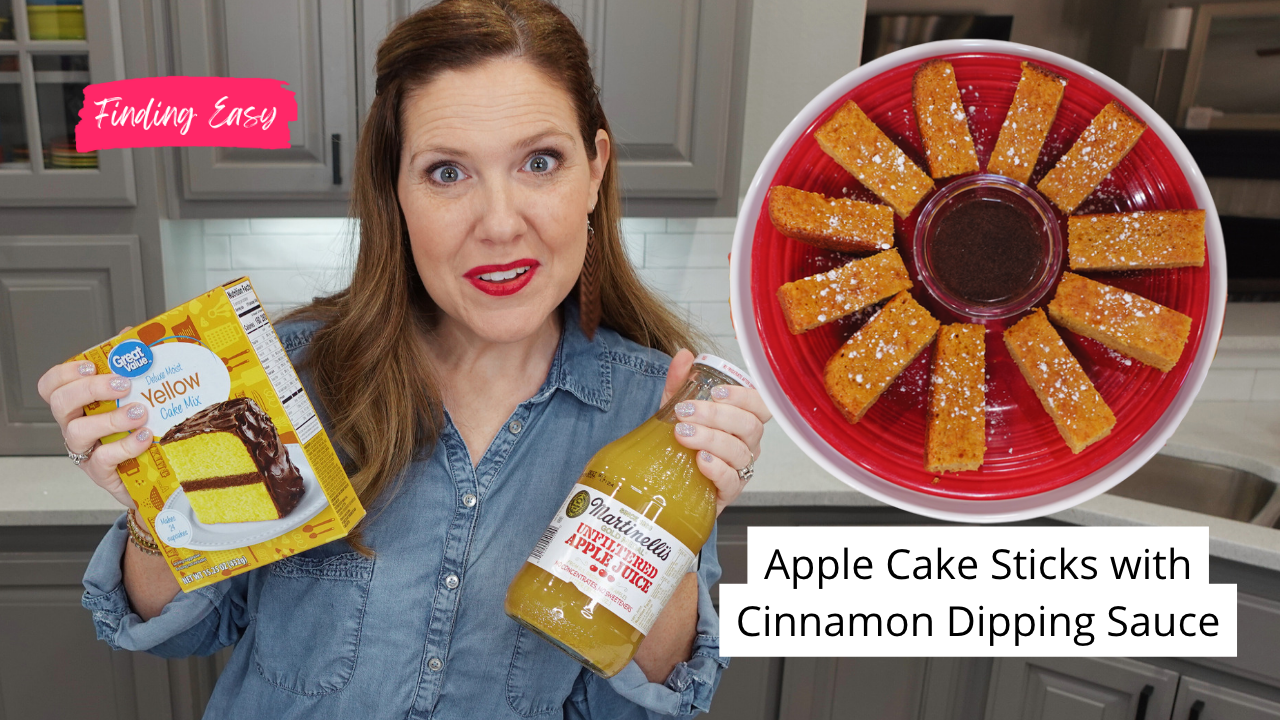 15 Oct

Apple Cake Sticks with Cinnamon Dipping Sauce
Introduction
Nothing beats the aroma of freshly baked goods wafting through the kitchen, and today, we have an incredibly tempting recipe to share with you all – a delightful apple cake with a heavenly cinnamon glaze. This scrumptious treat is the perfect balance of sweet and spiced, and what's even better is that it's made with some clever semi-homemade shortcuts to save time and effort. The star of this recipe is unfiltered apple juice, lending the cake a unique creaminess and flavor. So, let's roll up our sleeves and get started on this mouthwatering culinary adventure!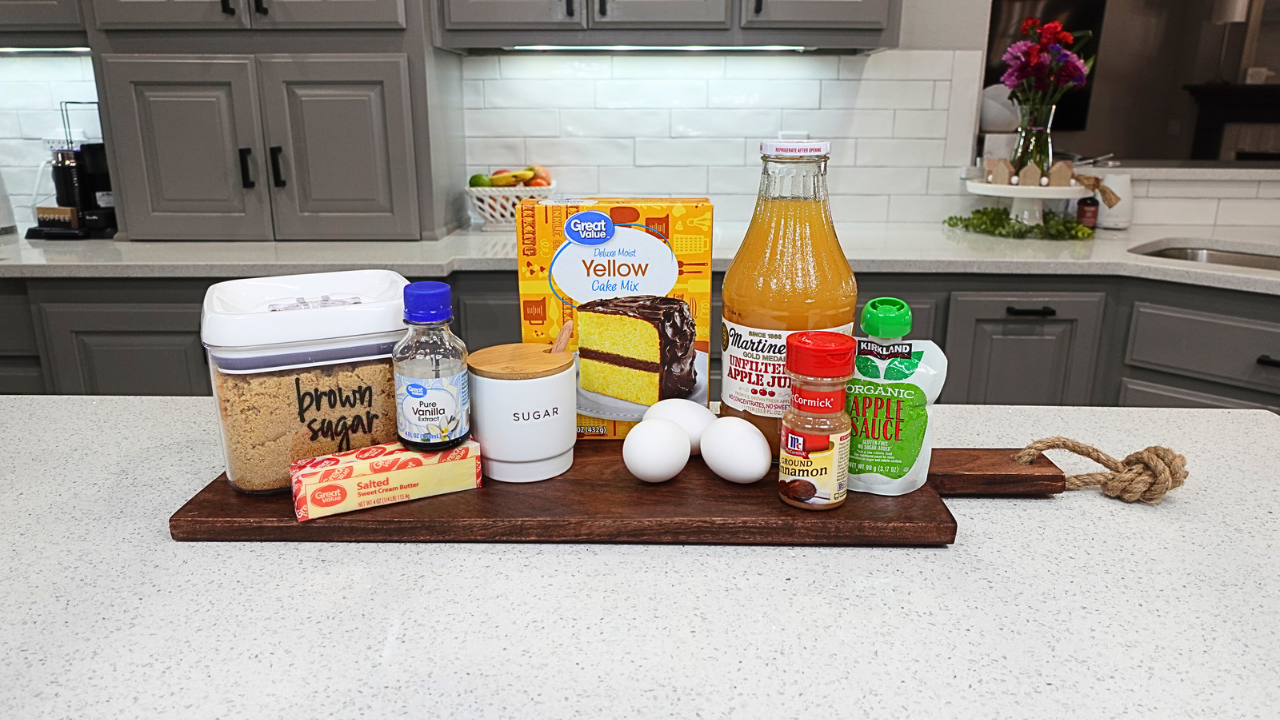 The star ingredient of this recipe is unfiltered apple juice, which lends a unique moisture and depth of flavor to the cake. If you have unfiltered juice or even apple cider, they will work just as well. To begin, we combine one cup of apple juice or cider with half a cup of apple sauce in a mixing bowl. You can use squeezable apple sauce or regular apple sauce, whichever is most convenient for you.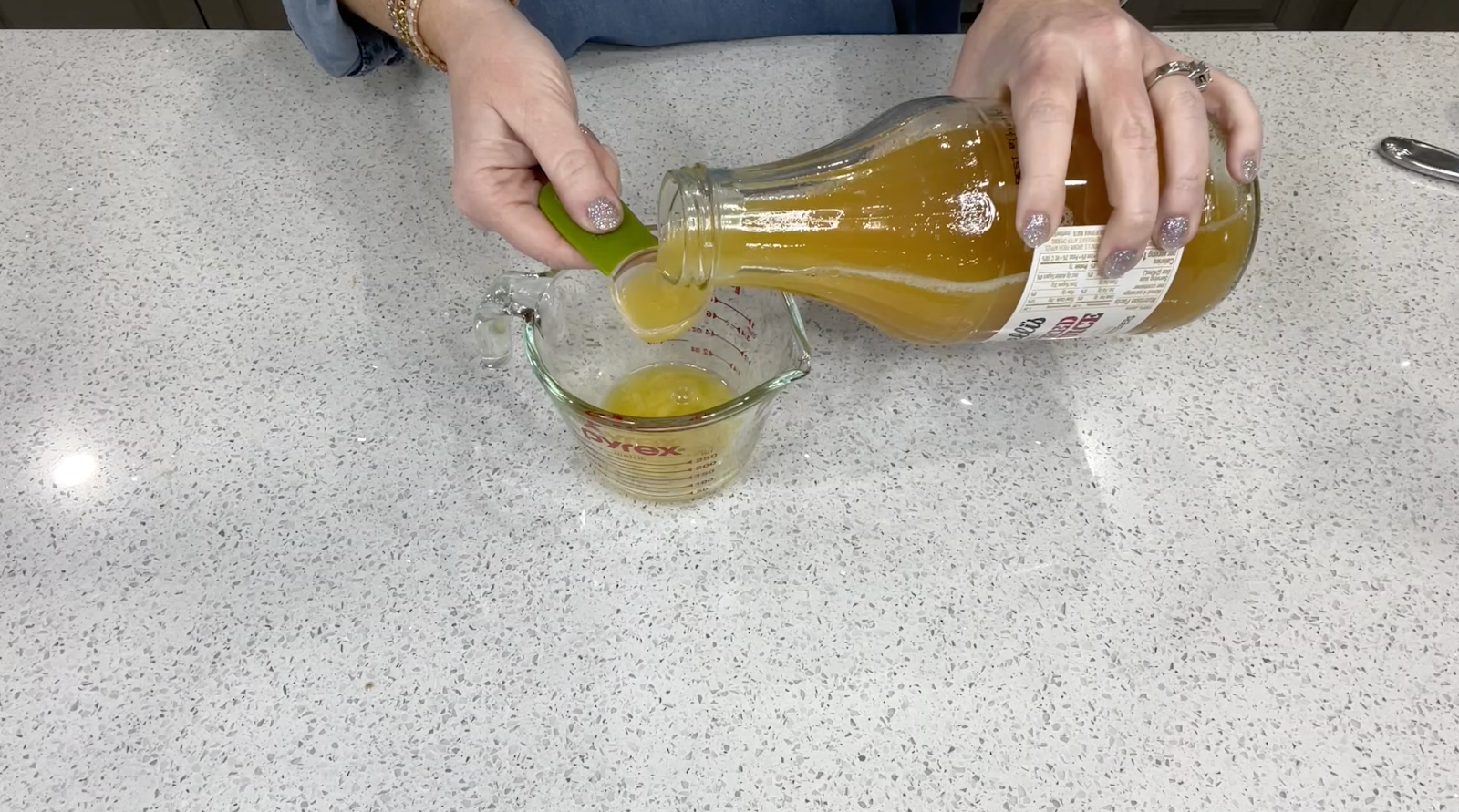 To add richness and moisture to the cake, whisk in three eggs and a tablespoon of brown sugar. I prefer storing my dry ingredients like brown sugar in airtight containers to keep them fresh, and I found some great containers at Walmart and some cute labels on Amazon!
Now comes the moment to infuse the cake with that delightful cinnamon flavor. You can be generous with the amount of cinnamon you add; there's no need to measure precisely. Additionally, a teaspoon of vanilla extract enhances the aroma and taste of the cake. Whisk all these ingredients together to create a smooth, fragrant batter.
To make things easy, use a yellow cake mix from the store for your cake. Open up the box, pour all of the dry mixture into the mixing bowl with the wet ingredients, and whisk until the batter is smooth and free of lumps. While the oven preheats to 350 degrees Fahrenheit, prepare two bread pans, greasing them with a little olive oil or whatever oil that you have on hand. I got my bread pans from Walmart. They are copper and I love them!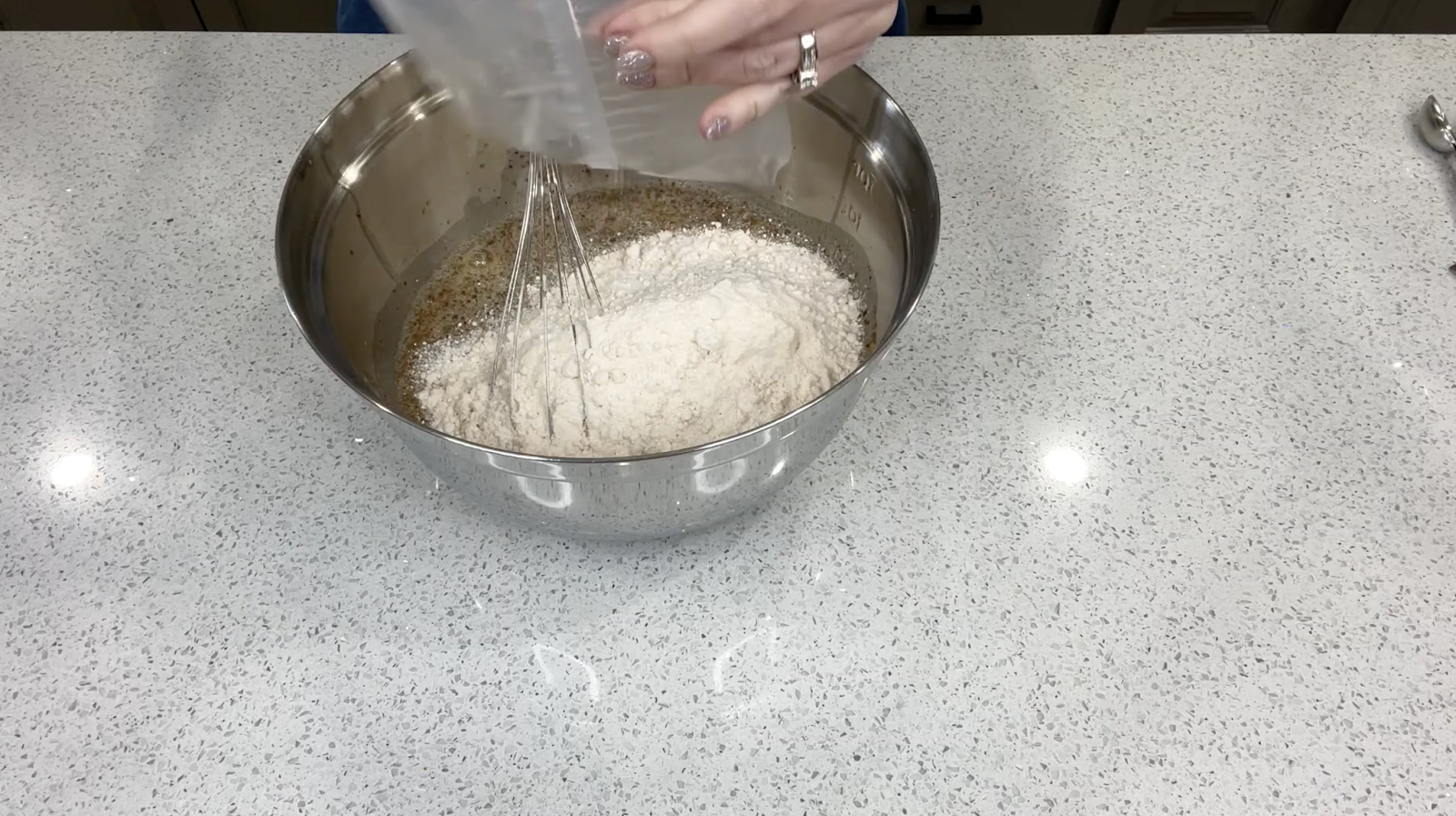 Divide the batter equally between the bread pans, and into the oven they go for around 35 minutes. The tantalizing aroma of apples and cinnamon will fill your kitchen, making it hard to resist peeking through the oven window.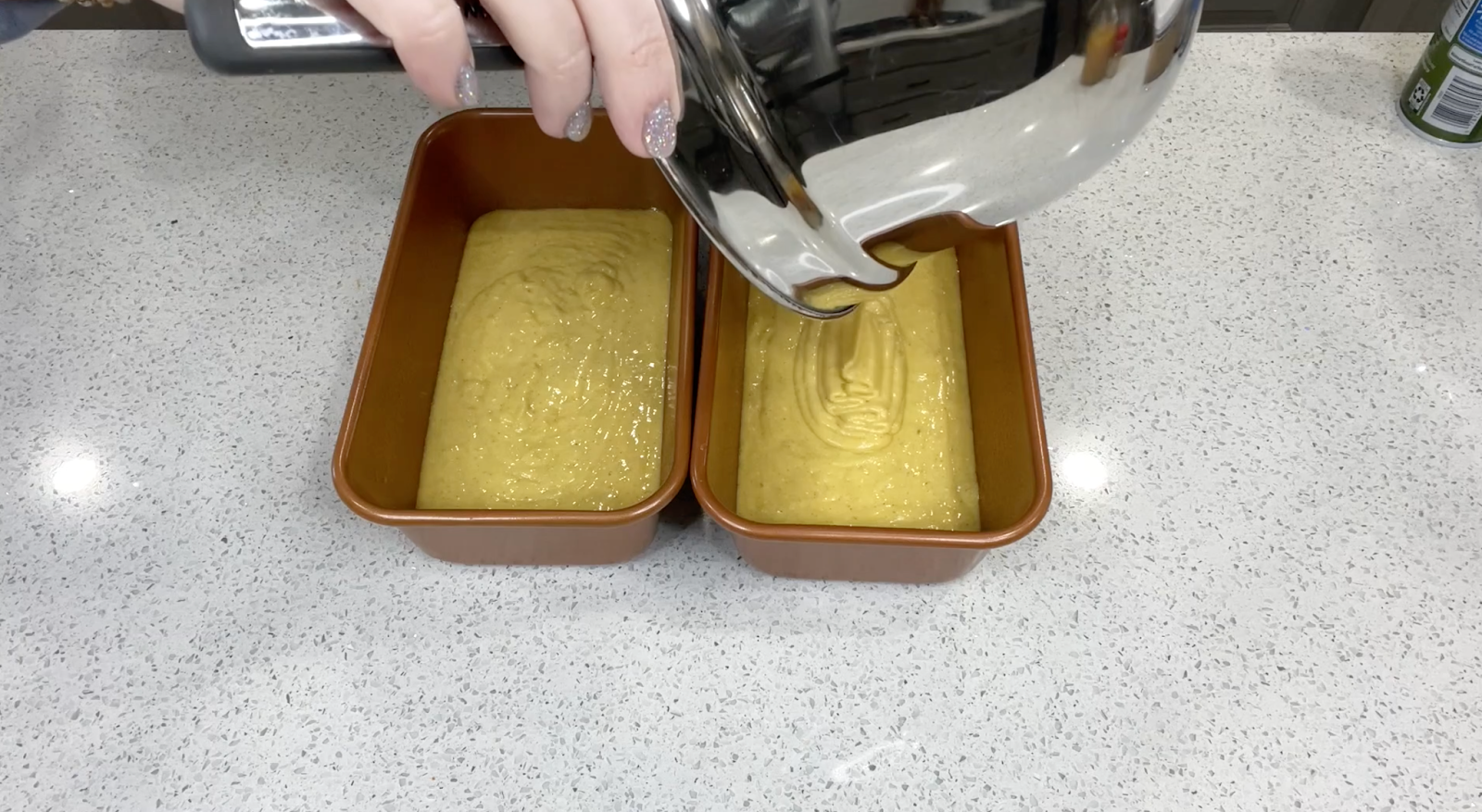 While the cakes bake to perfection, it's time to whip up an irresistible cinnamon glaze. Melt a tablespoon of butter and combine it with two tablespoons of apple juice or cider, a tablespoon of sugar, as much cinnamon as you desire, and a cup of powdered sugar for sweetness. Mix everything until you have a smooth, velvety glaze.
Once the cakes are out of the oven, allow them to cool slightly before gently removing them from the pans. If you prefer serving the cake as dipping sticks, use a serrated bread knife to cut them into strips. Otherwise, you can present the whole cake and drizzle the glaze over it.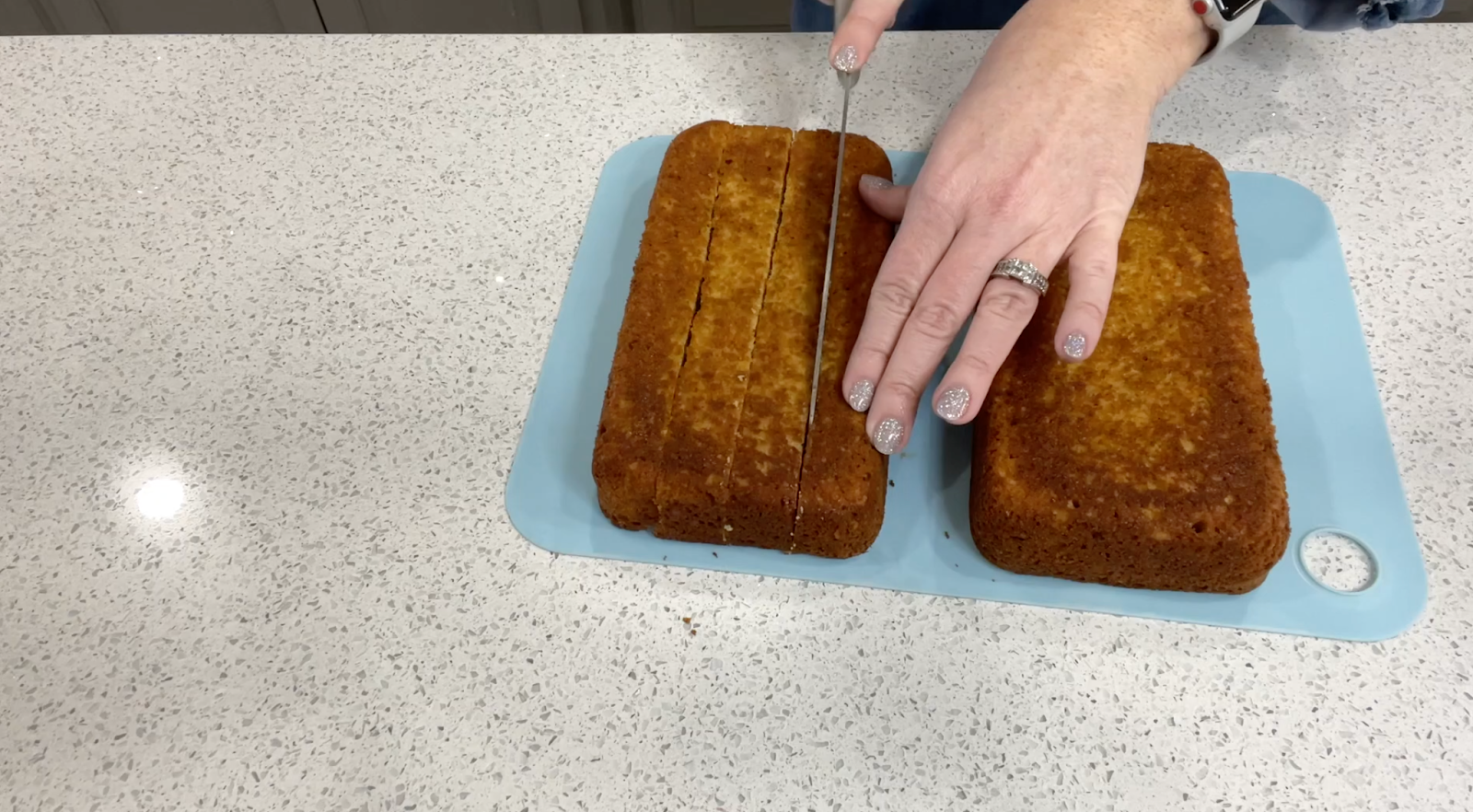 For an elegant touch, arrange the cake sticks around the dipping sauce in the center of a serving plate, and add a sprinkle of powdered sugar on top for a lovely finishing touch.
This delectable apple cake with cinnamon glaze is a true treat for the senses, and it's perfect for any occasion. The use of semi-homemade shortcuts makes it a breeze to prepare, and the result is nothing short of spectacular. So, the next time you have a craving for something sweet and comforting, give this delightful recipe a try, and let the delightful flavors of apple and cinnamon work their magic on your taste buds!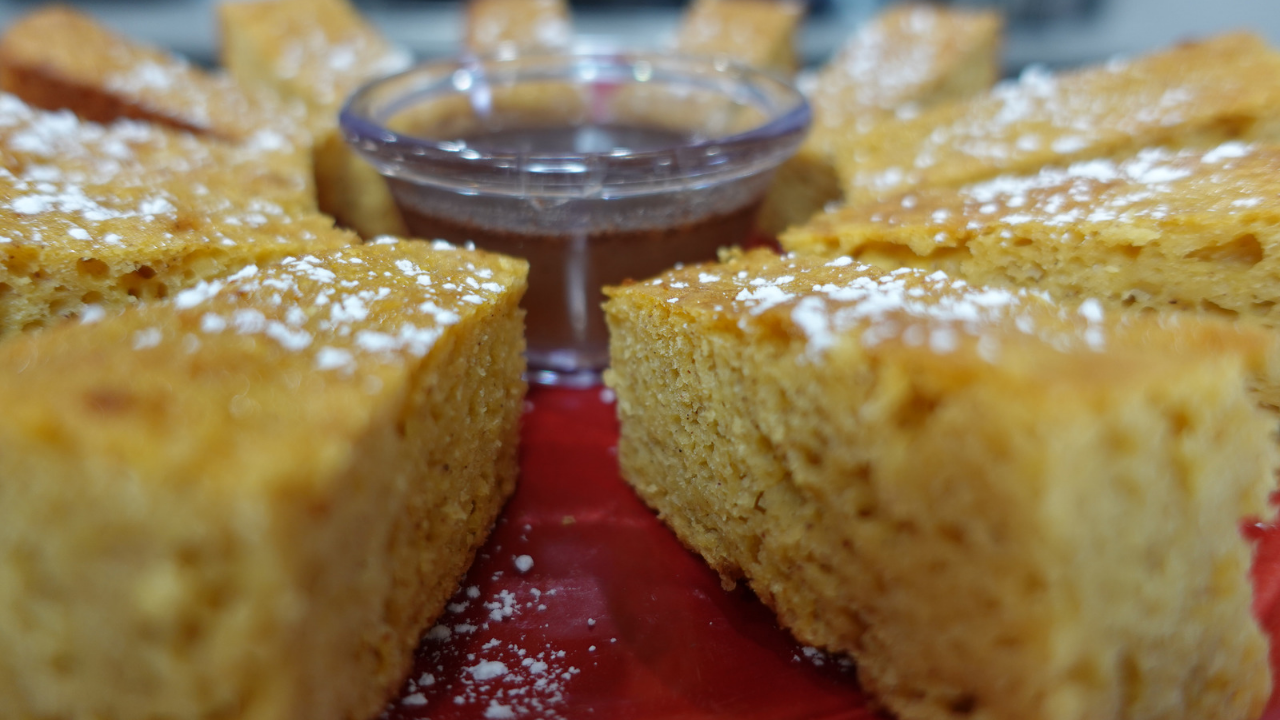 Conclusion 
There you have it, a delectable apple cake with a mouthwatering cinnamon glaze that's sure to impress your family and friends alike. The beauty of this recipe lies in its simplicity and the clever use of semi-homemade ingredients like unfiltered apple juice and yellow cake mix. With the warm, comforting flavors of apple and cinnamon, this cake is the ideal treat for any occasion, be it a cozy family gathering or a grand celebration. So, next time you're in the mood for some baking, give this recipe a try, and indulge in the scrumptious goodness of this apple cake with cinnamon glaze!