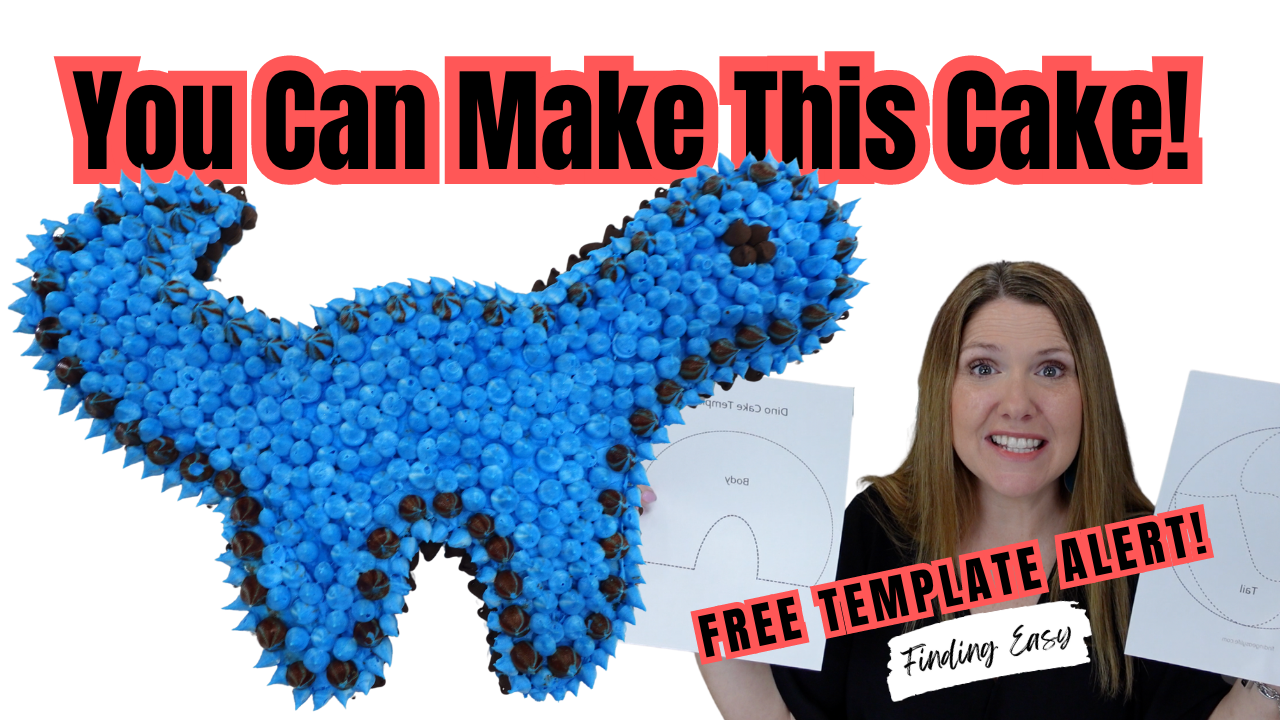 22 May

How to Make a Dino Cake: Create the Perfect Boys Dinosaur Birthday Cake with This FREE TEMPLATE

Do you have a dinosaur-loving toddler in your house who deserves only the best for their birthday? Are you wondering what kind of cake to make for them that doesn't take too much time or hassle but still looks good enough to show off? I've got the perfect solution: an easy dinosaur cake! With just a few simple ingredients and this free template, you can get creative and whip up a fun cake that will leave your little guy feeling special and loved on his big day. Keep reading to find out how it's done, or better yet, click the video and I'll show you step by step what to do!
Baking your Cake Layers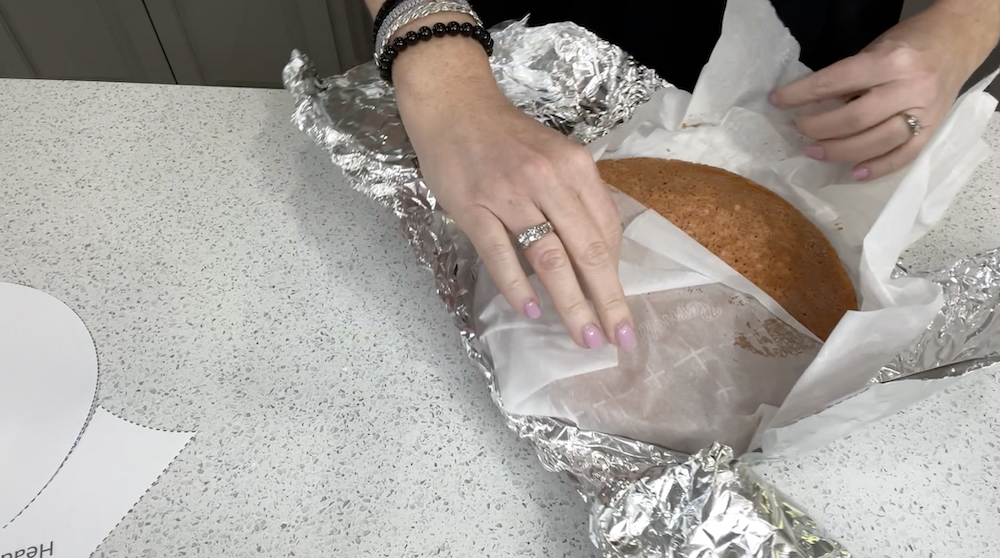 Before we create our dinosaur masterpiece, we need to bake the cake layers first. It's a simple one-layer cake, just using two round cake pans. You can go wild with flavors, or simply use whatever you already have in your pantry – like our strawberry choice.
TIME SAVING TRICK: bake your cake rounds ahead of time and store them in the freezer. Come decorating day, this will save you a step, and working with frozen cake is a breeze!
Creating the Dinosaur Shape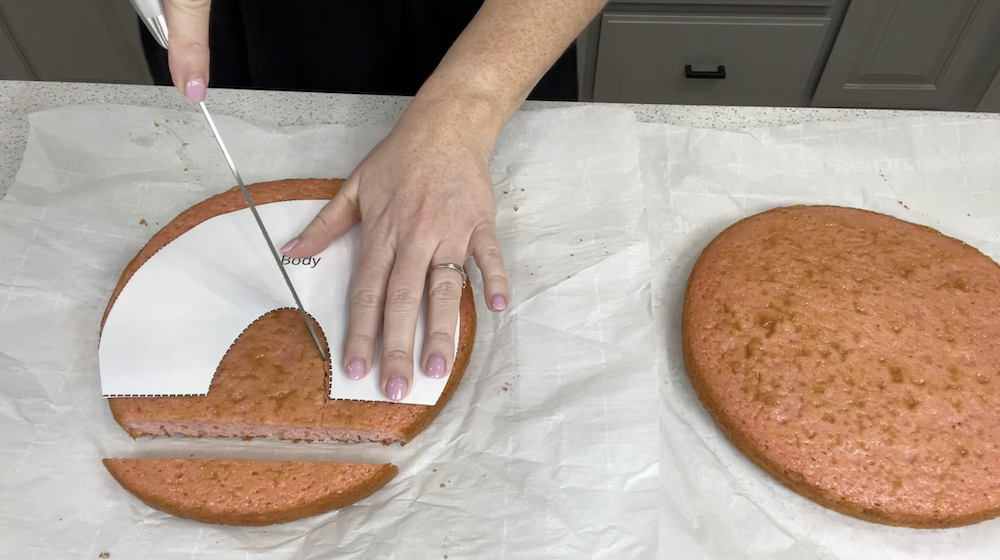 To create your dino cake shape, you just need 2 things, a serrated knife and a template. We've made the dino part easy-you don't need to be a pro at sculpting cakes because we've created a free template that you can print out and use as a guide. Simply place the template on top of your cake layer and use the knife to cut around it. This template was created for an 8″ round cake pan. If you have a 9″ inch round cake pan, no problem! I explain how to make a simple adjustment to make it work for that size as well.
Frosting your Dino Cake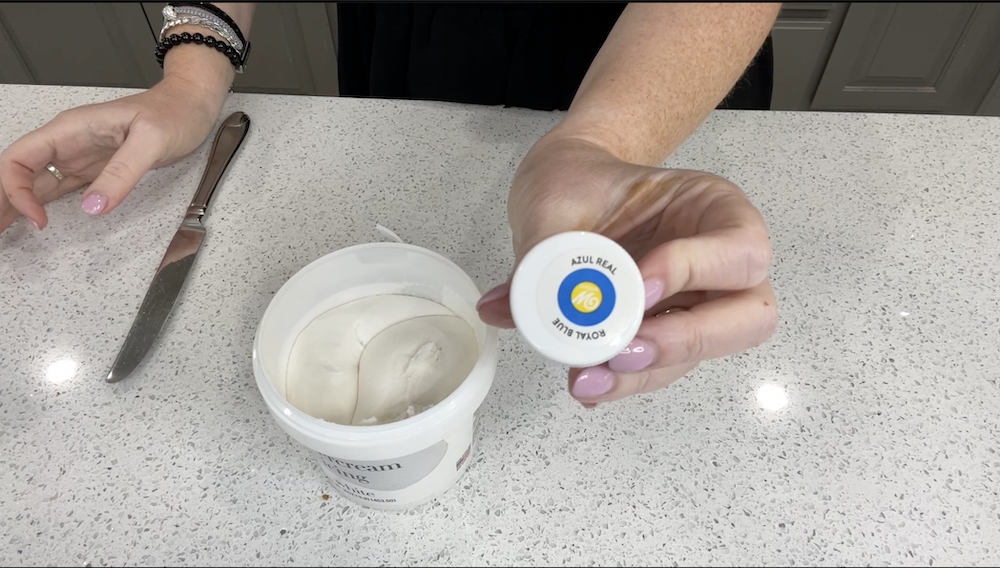 It's time for the frosting! Once you've cut your cake layers, the fun really begins. While some bakers prefer to make their own frosting, you know I'm always finding the easy and this time, I'm using premade frosting. If you want to boost the flavor of that store-bought icing, I have a great hack for that here in this video!  I used gel food colors to achieve a pretty blue. For best results, start with a crumb coat. After chilling your cake, you can proceed to decorate it however you like.
Decorating your Cake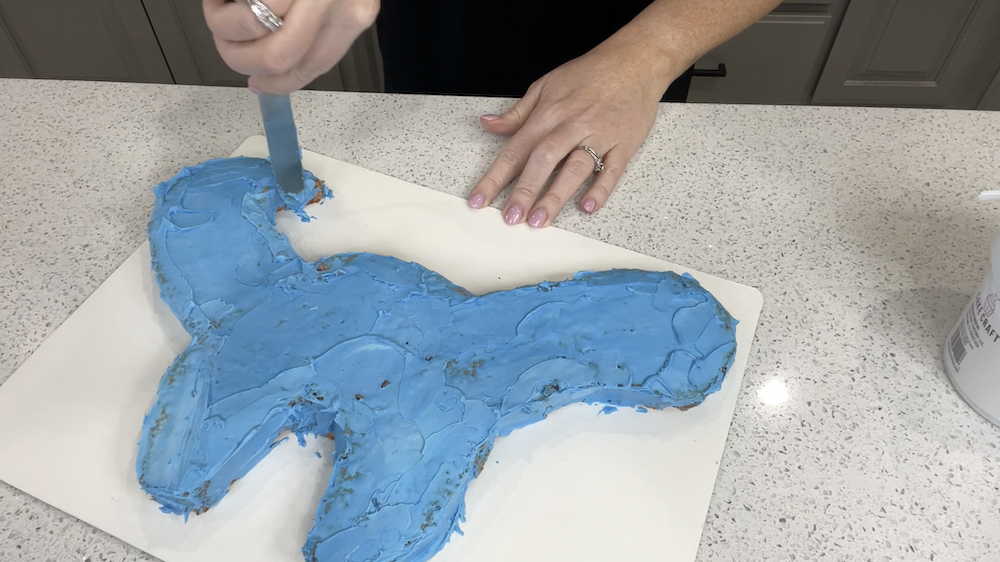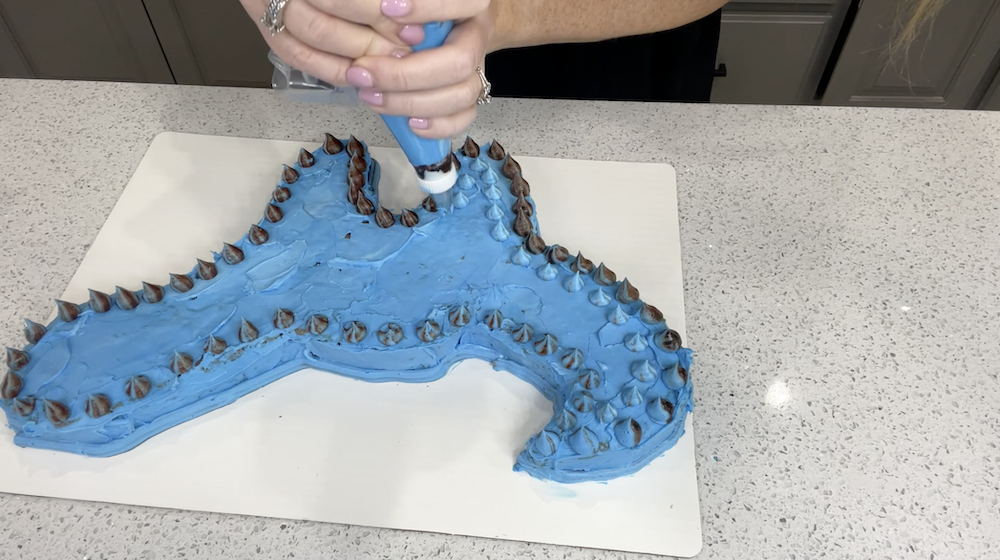 It's time to decorate your cake—this is the part where all you really creative moms can go to town! Use colored fondant to add details like eyes, nose, claws, and spikes to bring your dinosaur cake to life. You can even use edible paint or coloring. But me? The simpler, the better! I just piped simple dots all over the cake and use chocolate chips around the edge of the cake board to give it a more finished looked. Easy peasy!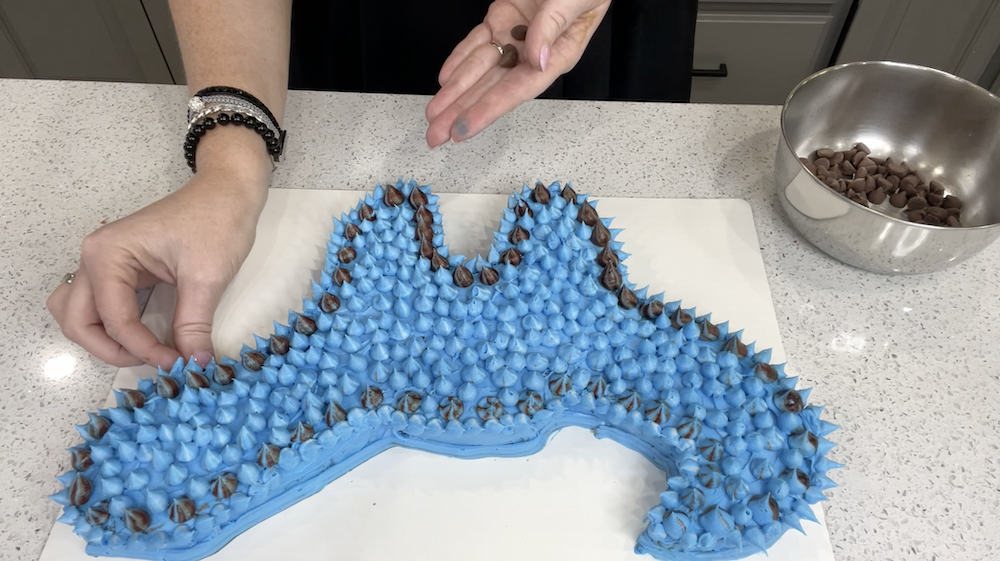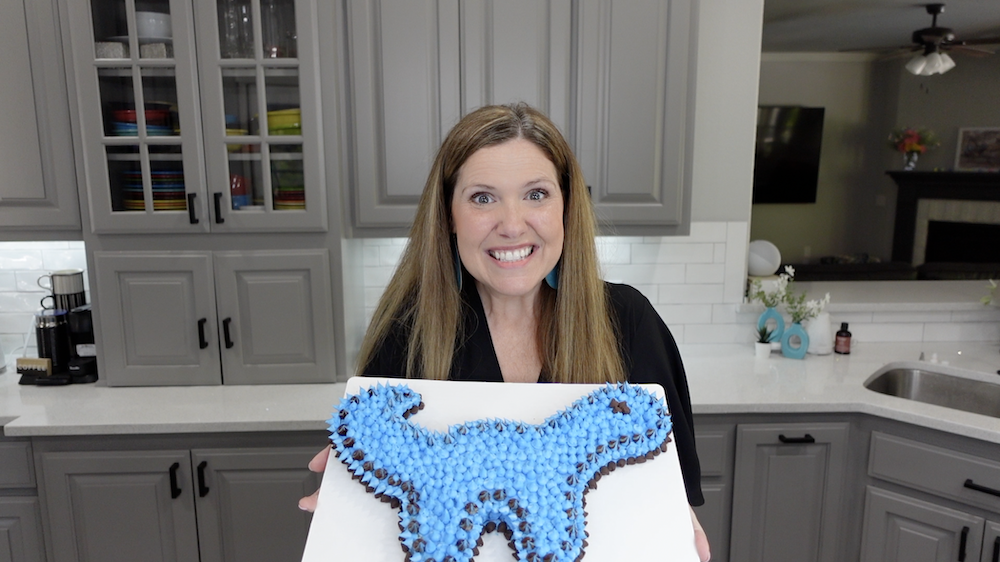 This dinosaur cake is an easy way to make a birthday party memorable. With the free template and instructions provided, you can turn a basic cake into an exciting event that kids will love. Your guests will be impressed with your creativity! Get started on making your masterpiece today by downloading my free template and watching the video for detailed instructions. Once you're finished, don't forget to leave me a picture of what you created – I would love to see how it turned out!
This lucky little dude got 2 cakes this year! If you want to see how to make this easy Spiderman cake, click here!